Listed Buildings in Angmering
---
Angmering has been fortunate in retaining many of its old historic buildings.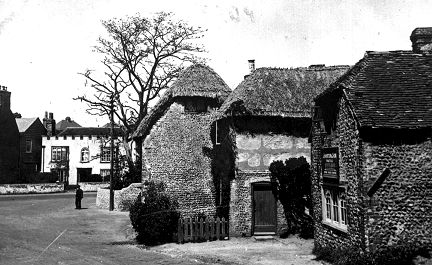 However, many buildings were lost in the 1930s when well meaning local councillors (such as Edwin Harris) wished to improve housing and introduce more sanitary conditions into the village. The historic Bunnes Cottages (see photo right) next to Eachways Cottage were demolished by 1937, as were the old cottages in Water Lane close to Dappers Lane. Barrack Yard Cottages in the High Street were demolished a few years earlier.
Old buildings and barns continued to disappear up until 1970 before, nationally, society became increasingly aware of its lost heritage. At that point, conservation and preservation organisations, such as The Angmering Society, sprang up around the country. For many areas, however, it was too late. Goring, for example, had most of its old buildings swept away by the 1960s and few of note survive today.
Below are Angmering buildings and structures appearing in the Arun District Council's Schedule of Listed Buildings. All are Grade II with the exception of St Margaret's Church, New Place, and Ecclesden Manor which are of greater historic interest and are listed as Grade II*. The majority of these Listed Buildings are probably 18thC or earlier, but the list includes some 19thC buildings such as the Public Library (ex Older's School) (built 1853). The War Memorial, of course, is 20thC.
Arundel Road
| | |
| --- | --- |
| | The Parish Church of St Margaret |
| | Church Cottage |
| | The Vestry Hall |
| | Waterton House |
| | Elmhurst |
| | Barn at Elmhurst to the N of the house |
| | 203 (Pear Tree Cottage) |
| | 1 to 6 Longback Cottages |
| | The Public Library |
| | School House |
| | Church House |
| | Aberdeen House |
| | Outbuilding adjoining S of Aberdeen House |
| | Angmering Forge |
| | 200, 201, 202 (New Place Farmhouse) |
| | 192, (Decoy Cottage) |
| | The Woodman Arms Public House |
| | The Old Cottage |
| | Upper Bargeham (farmhouse buildings) |
| | Barn to Upper Bargeham to W of farmhouse |
Church Road (Pooks Hill)
| | |
| --- | --- |
| | 1, (St Margaret's Cottage) |
| | 2 & 3 |
| | 4, (Jade Cottage) |
| | 5, (Pooks's Cottage) |
| | 7, (Little Avenings) |
| | 8, (St Nicholas House) |
| | 9, (Conyers) |
| | Blaber Cottage |
High Street
| | |
| --- | --- |
| | Saddlers |
| | Thorpe Cottage |
| | Ivy Cottage |
| | Garden House |
| | Syon House |
| | Salters |
| | Bow Cottage |
| | Chants |
| | Old Well Cottage |
| | Bennington House |
| | The Old House |
| | Weavers |
| | Brocketts |
| | The Pigeon House |
| | Outbuilding SE of Pigeon House |
| | Barn to the E of Pigion House |
| | Wayside Cottage |
| | The White House |
| | White House Cottage |
| | Thatchers |
| | Bay Tree Cottage |
| | Littleworth |
| | Littleworth Cottage |
| | The Spotted Cow Public House |
| | Ecclesden Manor |
| | Dovecote at Ecclesden Manor NE of house |
Rectory Lane
| | |
| --- | --- |
| | The White Cottage |
| | Church Farm House |
Roundstone Lane
The Square
| | |
| --- | --- |
| | Eachways |
| | The Lamb Inn |
| | Hazel Cottage (formerly The End) |
| | Byfleet House |
| | Ann's Cottage |
| | Elm Grove Cottage |
| | Dolphin Cottage |
| | The War Memorial |
Station Road
| | |
| --- | --- |
| | The former Baptist Chapel |
| | The old Mill House |
| | The old Cottage |
Water Lane
| | |
| --- | --- |
| | Avenals Farmhouse |
| | Ecclesden Farmhouse |
Weavers Hill
| | |
| --- | --- |
| | Malt Barn Cottage |
| | The Malt House |
| | Cressingham Cottage |
| | Barn S of Cressingham Cottage and linking wall |
| | Weavers Cottage |
West Drive
| | |
| --- | --- |
| | Ham Manor Golf Clubhouse |
| | The Dower House |
| | The Gates of The Dower House |

Page first uploaded: 7 April 2004