Angmering Baptist Chapel & Church
---
Angmering Baptist Chapel was erected on the hill in Station Road in 1846 and first registered as a place of worship on 7 January 1847. This was built "at the sole expense" of Mr George Robert Paul (b. Twickenham 1803) of Portland Lodge, Worthing, the son of Sir John Dean Paul, Bt. The chapel's first minister was John Adams, also of Worthing, who was assisted by Pastor Cox.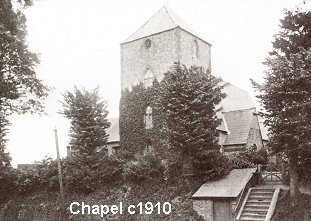 After Mr Paul had gone to live abroad in 1852, Mr Thomas G Graham stepped in as the benefactor of the Angmering Chapel. In 1861 he built the New Street Chapel in Worthing. He died intestate in 1906 and his son sold both the Worthing, Nepcote and Angmering Chapels to fourteen investors, headed by Mr Henry Southey, who became shareholders of the premises. The price paid for the Angmering Chapel was £325.
As the 20th Century progressed, the facilities of the Angmering Chapel became inadequate. There were no car parking or toilet facilities and access up the steep approach was difficult or impossible for the disabled. Under the guidance and financial support of Sir Herbert Janes, the founder and chairman of HC Janes Ltd, Builders and Civil Engineers - who had retired to Angmering - a new site was eventually secured in 1967.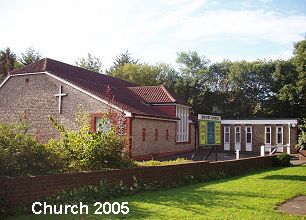 This was the derelict flint barn in Station Road, approx. 300 yards to the south of the Chapel. After more fund raising, the barn was duly converted, and the new Angmering Baptist Church was officially opened by Sir Herbert on 4 July 1970.
One interesting fact emerged from the barn's conversion. The builders, RS Duke Ltd of Ferring, discovered a date of 1846 carved into one of the barn's beams. This happened to be the exact year in which the old Chapel had been built. It has been said that the barn was the storage facility for the old Jerusalem windmill which stood nearby. While this may have been the case, the mill's life ended about that time.
The church hall was built in 1984 and in October 1994 an extension to the church itself was opened. In August 2005, a new rear entrance porch was added which included a toilet for the disabled.
The old Chapel near the village centre was converted into two dwellings. The complete building is Grade II Listed. The small burial ground was made into a garden for one of the dwellings and the gravestones themselves moved to the eastern wall of the carpark/gardens at the new church. There are seven full sized grave stones and seven small corresponding foot stones bearing just initials and dates. Several of the stones are in an advanced state of erosion but the salient facts from them are as follows:
1
WILLIMENA RHODA BONIFACE
d. 21 June 1871
Aged 20 years



2
JEMIMA FARLEY
d. 7 September 1878
In the 80th year of her age
also
GEORGE FARLEY
d. 29 May 1889
Aged 88 years



3
MARY ANN
daughter of
CHARLES & LOUISA HEDGER
d. 11 November 1860
Aged 18 years
also
ALFRED their son
d. 9 July 1868
Aged 17 years



4
CHARLES HEDGER
d. 9 December 1889
Aged 89 years
also
LOUISA HEDGER
d. 25 January 1898
Aged 86 years



5
JANE
wife of JOHN JONES
d. 6 December 1868
Aged 71 years
also
JOHN
husband of the above
d. 20 January 1875
Aged 79 years



6
WILLIAM PENFOLD
d. 5 May 1877
Aged 19 years


7
JANE PENFOLD
d. 11 March 1884
Aged 67 years


Neil Rogers-Davis,
August 2005
---
Information Sources
Church History & Chapel Photo:
The Story of Angmering Baptist Church - The First 150 Years : RWT Thorns, 1997
Additional History:
Angmering Place Names: Nicholas Gould
Gravestone Transcriptions & Church Photo:
NA & R Rogers-Davis, Aug 2005
( Page first uploaded: 8 August 2005 )