(Part 4, Chapter 1, Section 3, Sub-Section 3) ( Bk. Index )
[ Farm Houses in 1839 - their histories]
3.3 Bakers Row and Conyers
[Bakers Row is now called Church Road. It has also been known as Pook's Hill]
---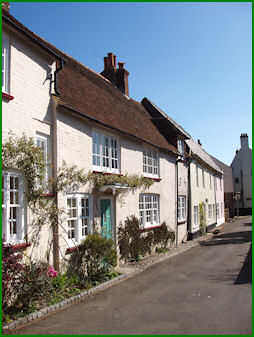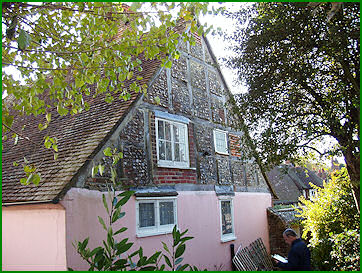 Church Road and Conyers
Listed Buildings Register Entry
CONYERS & ST. NICHOLAS - l-shaped building with a C18 front, but the back (No. 9 i.e. Conyers) probably older. Two storeys. Five windows. Stuccoed. The front portion has a mansarded slate roof, the back portion a steeply-pitched hipped tiled roof. Glazing bars intact. Doorway with flat hood over and the date 1585 recently placed over it.
Site Plan from the 1839 Tithe Map.
The house is in Plot No 383 at the east end of Church Road with the Lamb Inn to the east.