The Peskett Family of Angmering
---
In 1839, young Zebedee Peskett and his wife Jane moved from Billingshurst to Angmering where he became the landlord of The Lamb Inn in The Square. He no doubt had experience in the trade as his father, Edward, was an innkeeper. However, within a couple of years Zebedee started a business as a blacksmith, a business which evolved into other ventures and lasted more than 120 years in the village. Arguably, his business – expanded by his family - was the most successful in Angmering's history. Born in Billingshurst in 1812, he died in Angmering in 1892 aged 80.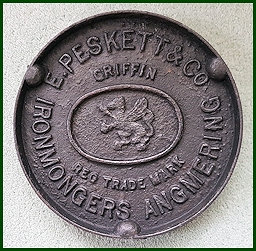 Zebedee's son George took over the business following Zebedee's death, which by that time had expanded into ironmongery with the shop located in The Square where Angmering Faming & Stitches can be found today. By the 1930s, Z Peskett & Sons Ltd were also "Engineers, Builders & Contractors" although by 1950, that part of the business had been bought and was being run by WT & JK Bagnall and included a funeral directors' business. Their builders' yard was in Arundel Road and situated where St Margaret's Court is today. Edward Peskett died in 1945 and few Pesketts remained in Angmering by the 1960s. We do know that Geoffrey Peskett was still at the shop until his death in 1966.
The ironmonger's business in The Square continued from the 1920's in the name of Zebedee's grandson who operated under the name of Edward Peskett & Co. This business was quite diverse selling agricultural machinery, hardware, paints, china & glassware, cycles, mopeds, scooters, electrical appliances, and even fishing gear!
By 1954/5, Edward Peskett & Co. also opened a cycle shop where Cooper Adams Estate Agents are today and, for a short while, also operated Peskett's Café from next door (now.Juna Home & Garden). I'm not quite sure when Pekett's closed in The Square – perhaps someone can tell me – but by the late 1980s, Wests were running the business.
The photo shown here is of an iron Peskett boss which probably came from the handle of a heavy duty lawn roller. Pesketts no doubt had these made and used to rebrand a product. Griffins of Leeds were a large manufacturer of powered and non-powered rollers. In 1928, the old gas lighting to the church was replaced by an 'invisible and diffused' scheme, by Edward Peskett & Co.
N A Rogers-Davis
May 2021
Page first uploaded: 10 May 2021