The Freeland Family of Angmering
---
The Freeland family may only have resided in Angmering for little over 60 years but they certainly left their mark as a result of photographic expertise of two members of the family..
It was Henry William Freeland who came to Angmering with his new wife, Lucy, in 1842/3. Henry William was born in Deptford, Kent, on 6th June 1819, the son of Mary Ann Clark and Henry Freeland and was baptised at St Paul's Church, Deptford on 27th June 1819. Henry's father, Henry Freeland senior (born 1797, Portsea, Hampshire), was a bookseller by trade. Henry Freeland senior had married Mary Ann Clark (born 1798, Deptford) in Newington, Surrey and Henry William Freeland was the first of eleven children.
On 12th April 1842, Henry William Freeland married Lucy Lee (1820-1888), the daughter of Harriet and John Lee of Havant, at St Mary's Church, Portsea in Lucy's home county of Hampshire. (Lucy had been baptised at the Church of St Faith, in Havant, Hampshire, on 23rd January 1820).
Henry and Lucy's first child, Henry William junior, was born in 1843, not long after their arrival in Angmering (Henry William Freeland junior was baptised in Angmering on 12th November 1843).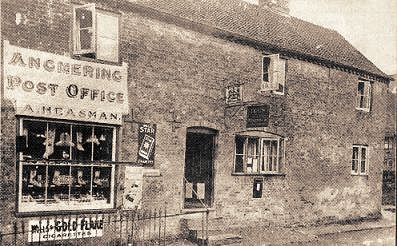 A second son, Samuel George Freeland was born in 1848, followed a year later by a daughter, who was given her mother's name - Lucy Lee (birth registered as Lucy Alice Freeland in the September Quarter of 1849). When the census of Angmering was taken in 1851, Henry William Freeland is recorded as a "Whitesmith", aged 31, living with his wife Lucy, eight year old Henry junior, and his two youngest children, Samuel, aged two, and one year old Lucy.
Before the next census, Henry Freeland and his family moved into Commerce House (see photo right - taken in the 1920s) in the High Street. Henry William Freeland gave up his old trade and entered the grocery business. During this period, there were two more additions to the Freeland family - Harriet Emma, who was born in 1853 (birth registered in the September Quarter ) and Alonzo Joseph Freeland, who was born around 1856. In the 1861 census, Henry William Freeland is shown as a "Grocer", aged 41, living with his wife and his three sons and two daughters at their house in Angmering.
Henry William Freeland began to take photographs professionally in the 1860s. A number of photographic views still exist which carry the details of "H. W. Freeland, Photographer, Angmering, Sussex". At the time of the 1871 Census, Henry William Freeland gave his occupation as "Photographer". Henry's twenty-two year old son Samuel George Freeland was also described as a photographer by the census enumerator. During this period, Freeland's small photographic views carry the collective name of "H.W.Freeland & Son" (Henry Freeland's first son, Henry junior, had died in 1866, in his early twenties). Henry Freeland and his son Samuel worked together as professional photographers for the next three or four years.
Around 1875, Henry William Freeland established a Chemist's shop at Commerce House . The 1881 census of Angmering describes Commerce House as a "Grocer's & Chemist's Shop". In the census return, Henry William Freeland gives his occupation as "Chemist, Druggist & Stationer". No mention is made of photography. Henry Freeland was assisted in the Chemist shop by his two unmarried daughters, Lucy Lee Freeland, aged 31, and twenty-seven year old Harriet Freeland. Henry's bachelor son, Alonzo Joseph Freeman, aged 25, worked alongside his father as a chemist, but he is also described as a "Dentist" in the census return.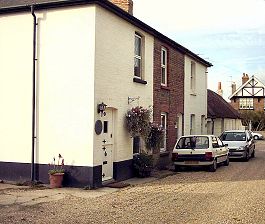 Samuel George Freeland, Henry and Lucy Freeland's eldest surviving son, had married Mary Ann Constable of Slinfold in 1875. At the time of the 1881 census, thirty-four year old Samuel Freeland was living in Bakers Row, Angmering, with his wife Mary and their two young sons - Henry Octavius (born 1876) and Reginald Albert (born 1878). Samuel Freeland, like his father, appears to have abandoned photography as a profession. Samuel Freeland gives his occupation as " Grocer's Assistant", so presumably he was running the grocery side of his father's business. By 1891 he had moved from Bakers Row to Grove Cottages (see left) in what was later to be known as Honey Lane (off the High Street).
At the end of 1883, Henry's youngest daughter, thirty year old Harriet Emma Freeland, married agricultural labourer Richard Doig, some seven years her junior. Harriet was widowed just over a year later when Richard Doig died, aged only 24. In 1884, Alonzo Joseph Freeman married Mary Mason Holyland of Angmering. By 1887, Alonzo Freeland and his wife left Angmering and had settled in the village of Kibworth Beauchamp, near Market Harborough, Leicestershire, where he continued to work as a chemist and dentist and where his and Mary's three children (Mabel Lucy, Ceceilia and Vida) were born.
Henry William Freeland's wife, Lucy Lee Freeland, died in Angmering in 1888 at the age of 68. Henry William Freeland died in 1891 at the age of 71 (death registered in the East Preston District in the March Quarter of 1898 ). Henry Freeland's eldest son Samuel took over his father's grocers and chemist's shop, but within 8 years he too was dead. Samuel George Freeland died before he reached his 50th birthday in the March Quarter of 1898.
Following Samuel's death, his widow Mary Ann went to live near her brother-inlaw and sister-in law, Alonzo and Mary, in Kibworth Beauchamp along with three of her children - Henry Octavius, Theodore, and Florence. Henry Octavius Freeman went into the business of manufacturing mineral water and young Theodore and Florence became hosiery hands at that time. Mary and Samuel's second son, Reginald Freeland, remained in Angmering and, in 1901, he was working as a carpenter in the village and living with his aunts.
Commerce House finally passed to Henry Freeland's widowed daughter, Mrs Harriet Doig, who briefly ran the shop as a grocery store, before finding work as a dressmaker. Lucy Freeland, H. W. Freeland's eldest daughter, never married. At the time of the 1901 Census, 51 year old Lucy was still living in Angmering and gave her occupation as "Housekeeper - Not Domestic". Lucy was probably "keeping house" for her younger widowed sister, Mrs Harriet Doig at Commerce House.
Commerce House itself was demolished in the late 1930s and it was replaced by a pair of semi-detached houses built by Angmering builder, Arthur Penn. One of the houses was named "Freelands" (and still is) after the family.
Many examples of Henry and Samuel's photographic work have survived. The quality of the photos is good and their expertise is recognised and featured in the publication "The Picturemakers" by H .J. F. Thompson.
---
Notes
Angmering Village Life wishes to thank David Simkin and Deborah Herbert for this article. Deborah would be delighted to help Freeland family history researchers or to receive any additional information about the Freeland family, not only in Angmering, but elsewhere. Contact Deborah by clicking


A tree of the Angmering Freeland family in PDF format can be seen by clicking here.


Unfortunately, there are no known photos of the Freeland family of Angmering which is somewhat surprising as Henry William and Samuel George Freeland were prolific photographers. If any reader of this page is aware of such photos and would like to share them with other Freeland family members, please contact Angmering Village Life or Deborah Herbert.


Angmering Village Life wishes to acknowledge the major contribution of David Simkin in the research and writing of the article. His own website "Sussex PhotoHistory" is thoroughly recommended and may be found at http://www.photohistory-sussex.co.uk/index.htm. His specific page on Henry William Freeland and Samuel George Freeland is located at http://www.photohistory-sussex.co.uk/FreelandAngmering.htm which contains many excellent photographs taken by them, details of their activities, and samples of the reverse side of their cartes-de-visite.
Page first uploaded: 4 December 2005