Francis John Angus Skeet (1869 - 1943)
Soldier, Historian and Jacobite
---
One of Angmering's most intriguing residents in the 20th century was Francis Skeet. Well-known in higher echelons of society in the district and further afield, Skeet was perhaps less well-known in Angmering itself, despite having lived in the High Street for 22 years and writing Angmering's one and only dedicated history book.
Francis John Angus Skeet was born at Windhill House, Bishop's Stortford, Hertfordshire, on 10 March 1869 1, the eldest of six children of solicitor Robert Skeet and his wife Alison Jane (née Wilby) 2. The Wilby family appear to have been descended from the Northumberland family of that name but were established as landowners in Hertfordshire by the 18th century 3.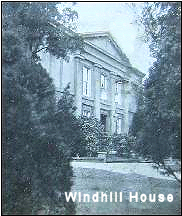 In 1806, the Wilbys purchased Windhill House, Bishop's Stortford, and later in the century rented it out for many years to the Skeet family 3. Robert Skeet was born in 1834 at Sculcoates, Hull, the son of Henry Francis Skeet and Ann (née Somerscales) 4. Henry was a Notary Public and conveyancer 5.
Between 1885 and 1887 Francis Skeet attended the well-known Felsted School, only about 14 miles from his home 6. At the age of 18, Skeet passed the preliminary examinations of the Incorporate Law Society 7, no doubt encouraged by his father who had hopes of Francis becoming at least the third generation to follow a legal career. However, his father died early in 1889 and it seems doubtful whether Francis ever qualified as a solicitor himself as, on 19 October 1889, at the age of 20, he was commissioned into the Royal Dublin Fusiliers as a 2nd Lieutenant, being promoted to Lieutenant on 27 June 1891 8.
The 1890s were probably a period when his Catholicism and his sympathies with the Jacobite cause were rapidly shaping. His mother's descendents were well documented Jacobite supporters and it is also believed that the Skeet family may also have been in the distant past. Confirmation emerges of his growing commitment to Jacobitism (the political movement dedicated to the return of the Stuart kings to the thrones of England and Scotland) when, at the end of the 19th century, he became engaged to Ada Beatrice Zolila Murray (known as Beatrice), daughter of Lieutenant Colonel Edward Kent Strathearn Murray, and the grand-daughter of Robert William Felton Lathrop (Murray), who claimed descent from a Robert Murray, the son of Sir William Murray, baronet, of Dynnyrne, Scotland, another Jacobite supporting family 9.
It seems by 1896, as the eldest Skeet son whose aging mother was a Wilby, he may effectively have had control of Windhill House, Bishop's Stortford. In that year Skeet assisted the RC Archbishop of Westminster in establishing a Roman Catholic mission in the town and a Catholic school for girls run by five Sisters of St Mary of Namur 3 & 10 .
Skeet continued to serve with the Royal Dublin Fusiliers and was promoted to Captain in December 1898. At the end of 1899, Skeet was attached to the King's Own Royal Lancaster Regiment and sent to South Africa where the Second Boer War was to break out 10 months later. Skeet was for periods a special services officer graded as staff captain undertaking intelligence duties, and commandant of the Hanover district in Cape Colony 8. Correspondence from Skeet to his fiancée shows him to be scathing of many of his fellow officers describing them as amateurs and a blot on the campaign. Notwithstanding that, he was a great admirer of Kitchener who "always keeps us cheerful" and consoles himself by writing to Beatrice that "one knows one is doing the work of the Empire fighting for England". However, he was also scathing of the white Boers themselves whom he considered "an obstinate, unprofessional, lazy, treacherous race" 11.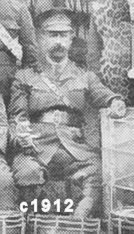 Despite being wounded at the Battle of Aliwal North in March 1900 and again in February 1902 8, he managed to survive the war but was invalided home in February 1902. As a result of his Boer experience it seems he was awarded the Queen's South African medal (bars for Orange Free State and Cape Colony) and the King's South African medal (bars for 1901 and 1901-2) 11.
On his return to England in 1902 he married Beatrice Murray on 8 April in that year at St James RC Catholic Church in George Street, London, Beatrice's home parish. She was 39 years of age, six years older than Francis 12. Promotion came again in June 1905 when he was elevated to Major in the Royal Dublin Fusiliers, a rank he held until his retirement in November 1913 8.
His mother died in 1903 and perhaps he then inherited Windhill House for, in that year, it was sold to the Redemptorists - a missionary society who strive to imitate the virtues and examples of Jesus Christ. Its surrounding land and the adjoining property, St Katherine's House, were also sold, the latter becoming the site for a new church, St Joseph's, which Skeet had been instrumental in establishing in 1906. Actually, the Redemptorists purchased the properties from a Mr Foster but he may well have been an agent for Skeet who would have been known locally for his Catholic sympathies at a time when there was still fear and suspicion of Catholicism 13. In 1906, while travelling in the USA, Skeet formally converted to the Catholic faith 3.
However, by 1905, Skeet had taken up residence at Crossbush House, just outside Arundel, but he also used The New Club in Grafton Street as a London address14, although he was still formally serving in the army. No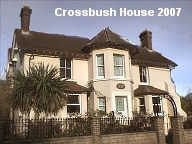 doubt it was during this time that Skeet became interested in Angmering's history, the village where he was to purchase a house in 1921. The Skeets lived at Crossbush for 3 or 4 years before moving to Hatfield Regis Grange, Hatfield Broadoak, only five miles away from his old home at Windhill 15. His interest in history was probably well established by this time as he was a contributor to the Victoria County History of Hertford, Vol. 3 16, which would have taken the authors many years to compile before its publication in 1912. In 1906 he had also published "A History of the Families of Skeet, Somerscales, Widdrington, Wilby, Murray, Blake, Grimshaw and Others": (London, Mitchell, Hughes and Clarke, 179p), this type of research possibly laying the foundation for other more substantial works that he was to write and have published more than 20 years later.
When seeking permission to retire from the Royal Dublin Fusiliers in 1913, he asked to be granted the honorary rank of Lieut-Colonel but this was refused by the military authorities as there was no regulation under which he could be considered for such rank. No sooner than he had formally retired, than the Great War broke out the following year. He applied to rejoin the army on two occasions and was eventually appointed in the Special Reserve as commandant of a prisoner of war camp at Corby, Northants. He continued in that capacity until April 1917 when he appeared before a medical board suffering from Neuritis in both arms and legs caused by damp conditions. A short spell in hospital followed but he never again appeared to serve in any capacity. On 20 November 1920, he was formally obliged to relinquish his commission 8.
That appears to be the end of Skeet's military career but he did attend a dinner in 1922 on the occasion of the disbandment of the Royal Dublin Fusiliers 11.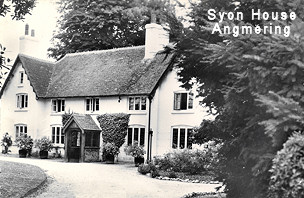 In 1921, Skeet decided to move to Angmering and purchased Glebe House (the parsonage for approx 300 years), which had just been vacated by the rector of St Margaret's for a brand new house in what is now Rectory Lane. "Glebe" obviously had more Protestant connotations, and therefore Skeet renamed the property "Syon House" which was probably more in keeping with his Catholicism and which also recalled the days prior to the Dissolution when the manors of West Angmering and Ecclesden were held by the Nunnery of Sion.
In that same year, Skeet published "A History of the Parish of Angmering in the County of Sussex" (West Sussex Gazette and South of England Advertiser, Arundel, 1921) which must have taken several years to prepare. He states in the book that "The compiler has begun a compilation of his village history as a labour of love. It has been printed at a monetary loss, but if it is appreciated by his fellow villagers, he is well rewarded". Only 100 copies of the book were printed; 75 ordinary copies at 5s each and 25 special copies at one guinea on best paper, numbered and signed and bound in art vellum 17. The work was dedicated as follows to Gwendolin Adelaide Katherine Georgiana Matilda Somerset, Lady of the manors of East and West Angmering, who resided at nearby Castle Goring:
Madam,

I should hardly have ventured to attempt a history of the Village, of which you are in truth the feudal proprietor, had not you most graciously awarded me your patronage. The pride which your approval afforded me encouraged me to continue my researches, and endeavour to complete a work which I trust may be of interest to you and your family.

Descended as you are, and is also your august husband, from the ancient Royal Family of these islands (indeed there is more of the Plantagenet blood flowing in the veins of your children than any other descendants of that Royal race), I inscribe this book as a small tribute to the greatness of an ancient lineage. ............................. This house rests sure and secure in its seat at Castle Goring, and may its name and dynasty stand so long as it pleaseth God. To say more might be construed by you and yours as flattery; to have said less would have been deemed by others as unjust and ungrateful upon the part of,

Madam,
Your most obedient, grateful and devoted servant,
Francis Skeet
Was this a sycophantic dedication to the Lady of the Manors or was it perhaps something more significant that was to emerge over the coming years, i.e. his open support of the Jacobite cause and the restoration of a Stuart descended monarchy, with an overt side-swipe at the current Royal line?
For a reason unknown, Skeet sold his library at auction at Sotherby's in February 1926 9. Perhaps he needed to raise funds to finance the research of his forthcoming book although this is unlikely as he was an extremely wealthy man 23.
During the 1920s Skeet wrote numerous articles on Catholicism, Jacobitism, and the Wilbye madrigals, and undertook research into probably his most significant work but one with an absurdly long title: "The Life of The Right Honourable James Radcliffe, Third Earl of Derwentwater (Co Northumberland), Viscount Radcliffe and Langley and Baron Tynedale (Co Cumberland) and Fifth Baronet of Dilston with an Account of His Martyrdom for the Catholic Faith and Loyalty to His Rightful King followed by Some Particulars of the Life and Execution of His Brother Charles Radcliffe, Fifth Earl of Derwentwater and Other Curious Details Relating to the Family" (Hutchinson, 1929).
The book was dedicated by Skeet to the RH Joseph William Lionel Baron Petre of Writtle Co. Essex and Miss Maria Widdrington of Syon House, Angmering, Co Sussex. In a copy recently put up for sale, on the first page of the book, the following was written "Maria Widdrington with Love from Francis Skeet". Skeet signed his name and dated it 20.April 1930. The 17th Baron Petre (1914-1989) was descended from a staunch Roman Catholic and Jacobite family 9.
Also in 1929, Skeet and his wife, Beatrice, "officially" adopted Miss Maria Widdrington 9. This may suggest that Maria had actually been living with them for some time prior to adoption. It will also be recalled from earlier in this article that Skeet had published a family history of the Widdringtons in 1906, this being another family with apparent Jacobite sympathies and no doubt there were family connections between the Skeet or Wilby families and the Widdrington's. Notwithstanding this, Maria kept her own name and arms 7.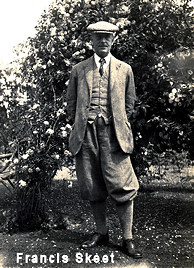 Skeet's next work in 1930 was the publication of "Stuart Papers, Pictures, Relics, Medals and Books in the Collection of Miss Maria Widdrington" and this was followed in 1932 by "The Life and Letters of H.R.H. Charlotte Stuart, Duchess of Albany" (Eyre & Spottiswoode, London).
His last known work was yet another book, written in 1938, specifically on the Jacobite medal collection of Maria Widdrington.
While there are few records of the Skeets being involved with village affairs, they did attend many functions and events organised by the Duke of Norfolk during the 1920s and 1930s 11. He was, however, a Justice of the Peace who sat on the Magistrates' Bench at Arundel 18 and was also elected as chairman of the Angmering Branch of the Conservative Association in 1937 19.
No doubt with more time on his hands and forgetting any oath of allegiance to the Sovereign he would have sworn on joining the Royal Dublin Fusiliers, he engaged in correspondence between 1933 and 1938 with the Jacobite Pretender 'King' Rupert, commencing all letters as "Majesty", although Rupprecht Maria Luitpold Ferdinand von Wittelsbach of Leuchtenberg, himself only used the title "Crown Prince of Bavaria". Jacobites, such as Skeet, recognised Rupert at his birth as "The Prince Rupert of England, Scotland, France, and Ireland, Duke of Cornwall and Rothesay, Earl of Carrick, Baron of Renfrew, Lord of the Isles, and Prince and Great Steward of Scotland" 9.
Skeet and Maria Widdrington were granted an audience with Rupert in Germany in July 1937 but his wife Beatrice did not accompany them 9. At 74 years of age, perhaps her days of travel were behind her.
Trouble, however, was afoot later that year when Skeet wrote to Rupert on two occasions accusing Captain Henry Stuart Wheatley-Crowe of treason as the latter had just declared himself Regent. It appears that at one time Skeet and Wheatley-Crowe had been on amicable terms but a rift had occurred somewhere along the line – probably on ideological differences. Rupert's response was to threaten Skeet with legal action as he had also done with Wheatley-Crowe as he wished to discourage supporters making claims on his behalf. No doubt Rupert was realistic about ever ascending the British throne and, with war clouds gathering over Europe, his position in Germany was by no means secure, particularly as he was bitterly opposed to Adolf Hitler and the National Socialist Party 9.
After 39 years of marriage, Skeet's wife Beatrice died at Syon House, Angmering on 30 January 1941 and on 7 August that same year he married Elizabeth Charlotte Stapleton in Westminster Cathedral 9. However, the marriage was to last only 18 months as Skeet himself, at the age of 73, died at Syon House on 9 February 1943 of Chronic Myocardial degradation (often a euphemism for old age) and Chronic Nephritis (inflammation of the kidney) 20. A Requiem Mass was held for him in the RC Church of St Phillip Neri, Arundel (now Arundel Cathedral) 21. He was buried there in the family vault 22.
Sometimes, however, we learn more about a person after their deaths than during their lifetime and Skeet is no exception. His complex Will 23, proved on 28 June 1943, gives us a far greater understanding of the man and his circumstances.
Francis Skeet was a very wealthy man, the gross value of his estate in 1943 amounting to £131,073. It is very difficult to estimate what the value would be today as so many factors have distorted values since WW2. However, using the average of a basket of value converters, it seems that a conservative estimate of Skeet's estate today would have been at least £8 million, and some conversion factors (such as per-capita of GDP) would produce an estimate of almost double that amount.
As can be expected of a devout Catholic, he left various sums for masses to be said for his Soul. His gardener, Edward Small, received £100 (approx £6,000 - £10,000 at today's values) and his chauffeur, James Kitchener, also received £100. His butler, Walter Hurley, was given an annuity of £50 per annum.
His second wife, Elizabeth Charlotte Josephine Stapleton (1907-1996), who was 38 years younger than himself, received an income derived from the sale of his Angmering properties and other trusts, plus his wines and consumable stores at Syon House. He also made extensive provision from any children resulting from the marriage, preference always being given to male heirs.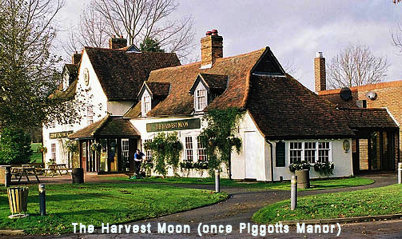 All his properties were to be liquidated by Lloyds Bank, his executors and trustees, and the monies raised put into various trusts. These properties included Syon House, Salters Cottage, East End House and Bennington House situated in the High Street, Angmering. His properties known as Stortford Park and Piggotts (now The Harvest Moon PH - see photo right) situated in Bishop's Stortford were also to be sold.
Substantial legacies from various trust funds were made to his nieces Alison Wilby Skeet and Frances Wilby Skeet. But more intriguing are the substantial bequests to Charles Francis Ian Angus Linnhe Reid provided he "uses the name of 'Skeet' as his surname and adopts and bears my coat of arms such arms to be borne as nearly as possible as I bear them quartering Wilby according to the Laws of Arms" and provided that he was brought up in the Catholic faith and educated at a Catholic school, preferably, Stonyhurst College.
Skeet's Will provides no specific relationship between himself and Charles Reid although the boy carried two of his Christian names – "Francis" and "Angus". Is this a suggestion that he could have been a natural son of Skeet? In one clause of the Will, Skeet brackets together both Charles Reid and his adopted daughter Maria Widdrington and states that in the event of one of them dying before the other, then the surviving one would take the deceased's share "per stirpes" (although this clause was later revoked by a codicil to his Will). This is more often than not a form of distributing the proceeds from an estate to one's surviving off-spring. Additionally, he made substantial provision for Charles Reid and Maria Widdrington before making provision for legacies to any children he may have had as a result of the marriage to his second wife, Elizabeth Stapleton.
All furniture and household effects from Syon House were bequeathed to Maria Widdrington as were all his books, pictures, relics and medals with a solemn request that she never sell any of these and further requested that if anyone in the future was unable to care properly for these items, they should be given to "the Society of Antiquaries and the National Portrait Gallery of Scotland or other Public Museum in Edinburgh". Skeet was a Fellow of the Society of Antiquaries. It seems that Maria Widdrington was as good as her word and, on her death in 2005, the items were left to the Society of Antiquaries and a legacy was given to English Heritage.
At some time during his life, Skeet donated a stained glass window to St Joseph's and the English Martyrs RC Church in Bishop's Stortford. A brass plaque sits beneath the window and reads:
THIS WINDOW
was erected by
MAJOR FRANCIS JOHN ANGUS EDMUND SKEET
To the greatere glory of GOD. Our Ladye St Marye
and All the Saints and in Memory of his Maternal Ancestors
THE FAMILY OF WILBY
Who for many generations resided here. Most of whom
lie buried hard bye in St Michael's Church
R.I.P.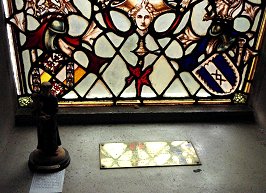 The Christian name "Edmund" appears in his name for the first time. It was certainly not on his birth, marriage and death certificates. Perhaps it was a baptismal name given to him when he embraced the Roman Catholic faith in 1906.
Francis John Angus Skeet was a man of strong beliefs and discipline. His staunch religious faith probably underpinned his whole life and guided him to do what he believed was right. While his support of the Jacobite cause was controversial, to say the least, there is little doubt that he was a true patriot and fought for his beliefs on the battlefield and through his historical writings. By his adoption of Maria Widdrington as his daughter and their mutual expressions of endearment 22, by his intriguing bequests, and by his considerable assistance in establishing a Roman Catholic presence in Bishop's Stortford after an absence of 350 years, Skeet demonstrated that he was a man of love and compassion. But not least, he left an enduring legacy to us through his several local and national historical publications.
Neil Rogers-Davis
December 2007
References
Birth Certificate
1881 Census
Bishop's Stortford history – www.stortfordhistory.co.uk
International Genealogical Institution
Hull Directory of Trades and Professions, 1829 & 1834
Felsted School archives
The Times (per Jacobite Heritage website)
National Archives, Kew (military records)
The Jacobite Heritage website & Forum - www.jacobite.ca
St Joseph and the English Martyrs history – www.catholicstortford.org
Strides Document Auctions (Nov. 2007)
Marriage Certificate
The Herts & Essex Observer, 28 November 1903
Kelly's Directory for Lyminster
Irish Military Lists
Victoria County History for Hertford Vol.3, 1912 – References pps 305/6
West Sussex Gazette (Arundel) undated book subscription notice.
Angmering – Reminiscences of bygone days (The Angmering Society, 2003)
West Sussex Gazette, March 1937
Death Certificate
The Times 10 Feb.1943
Littlehampton Gazette obituary 19 Feb 1943
Will dated 28 July 1941 and codicil dated 10 January 1942
Acknowledgements

In writing this article, the author wishes to acknowledge the significant assistance of various people or websites. These include:
Mr Liam Dodd (military and other records, esp. refs. 6, 8, 15, 21 & 22, and c1912 photo)
Mr Paul Ailey (Bishop's Stortford history, refs 3 & 13, & photos of the Harvest Moon PH and St Joseph's plaque/window) – www.stortfordhistory.co.uk
St Joseph and the English Martyrs Church. (photo of Windhill House and ref 10) – www.catholicstortford.org
Mr Leslie Baker (Skeet photo c1930)
The Jacobite Heritage website (principally Skeet's life in 1920s and 1930's - refs 7 & 9) - www.jacobite.ca
(Page first uploaded - 9 December 2007)