Penfold Winery - its links to Angmering
---
The Penfolds winery in South Australia today comprises more than 1000 hectares of vineyards and the wines produced have a world-wide reputation.
The first vineyard at Magill, Adelaide was established by Dr Christopher Rawson Penfold, a medical practitioner in Brighton, Sussex, England who emigrated to Australia with his wife and daughter in 1844. Christopher believed that wine had medicinal properties and, before emigrating, obtained vine cuttings from various French regions. Probably insufficient credit is given to his wife, Mary, who largely was responsible for the blending of vine varieties and which led to the establishment of the Penfold brand as we know it today.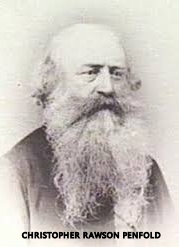 ...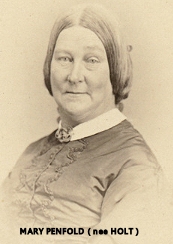 Dr Christopher Rawson Penfold was born in Steyning, Sussex in 1811, the son of John Penfold, vicar of Steyning, and his wife Charlotte.
There are several family trees which trace Christopher's lineage back to John Penfold (b.1678) of Broadwater, Sussex (now engulfed by the large town of Worthing) and perhaps a few that make the assumption that John came from the Angmering family without any great evidence. Most biographies of Christopher only trace his roots back to Steyning. Wikipedia incorrectly suggests that Christopher was born in Angmering.
It is only by studying the wider Penfold family and eliminating possible alternatives that we can be almost 100% certain that John did originate from the Angmering family.
John (1678-1738) was married twice. His first wife was Sarah Gittens from a prosperous Goring family. John was farming land in Broadwater (Lyons Farm) but the farm land spread to adjoining Sompting. They had 6 children between them before Sarah died in 1711 while they were living in the Broadwater/Sompting area. Why there is confusion between John residing in Broadwater and/or Sompting is that the actual border between the two villages divided the farmhouse itself at that time. The History of the County of Sussex, VoL. 6 Part 1 also tells us that the Penfolds farmed large areas from Lyons Farm, through Sompting, to Upper Cokeham.
From a 1687 probate inventory for Thomas Oliver (yeoman) of Angmering, we see that one of the appraisers was Hugh Penfold of Sompting (b Angmering 1648) and likely to be a kinsman of Thomas Oliver. Hugh was the father of John and we can therefore see how John inherited his father's lands in Broadwater/Sompting.
John's second wife was Anne Graves whom he married in Poling (immediately to the west of Angmering) in 1715. I can find no trace of the baptism of Anne in Poling or elsewhere, so it is unclear why they married in that parish. Maybe it was because John was a prominent member of the community in Broadwater and Sompting and he did not want the "publicity" it would have generated as Anne appeared to be already 4-5 months pregnant at the time of their marriage. What is not mentioned in any online record is a note in the original register stating that John came from Broadwater and Anne came from Sompting. Maybe Anne was already looking after John and his children after Sarah's death.
Interestingly, while researching links, I came across the Will of John's son, Peter (d. 1792) in which he bequeathed his kinsman, James Graves (possibly cousin) "all my wearing apparel of all sorts whatsoever". Angmering church and Poling church had long associations probably due to farm land leased by farmers that spread across the two parishes and the inter-marriages that took place. A little later, the rector of Angmering seemed to also have the living of the vicar of Poling within his benefice.
John's earlier marriage to Sarah Gittens is also important in establishing links as Goring lies only two miles from the Angmering boundary and there would be connections between these wealthy farming families.
While the GENI website establishes similar links to Christopher's Angmering ancestors, it does state that his great-grandfather, John was born/baptised in Broadwater on 25 July 1678. This is a small error as John was actually baptised in Angmering on that date.
With other John Penfolds eliminated and with this link established, it is then possible to trace Christopher's ancestry back some 475 years to the Penfolds winery family progenitor - Angmering's Richard Penfold (b.c1545).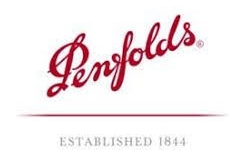 LINEAGE
Progenitor RICHARD PENFOLD b. c1545
Great-grandson HUGH PENFOLD bpt Angmering 4 April 1648. Married firstly Sara Hills in Angmering on 28 February 1671. Married secondly Mary Woolger in Coombes on 19 June 1677

Son JOHN PENFOLD bpt. Angmering 28 July 1678, died Broadwater 1738. Married Anne Graves in Poling on 4 July 1715

Son RICHARD PENFOLD bpt Broadwater 27 December 1715. Married Charity Marchant in Edburton on 7 August 1747

Son JOHN PENFOLD bpt. Steyning 5 May 1748. Married Charlotte Jane Brooks in Steyning on 4 October 1792

Son CHRISTOPHER RAWSON PENFOLD bpt Steyning on 2 August 1811, died 1870 in Adelaide, Australia. Married Mary Holt on 24 May 1835 in Holborn, Middlesex.

Daughter MARY GEORGINA ANNE PENFOLD bpt Brighton on 13 August 1843. Married Thomas Francis Hyland in Australia on 24 September 1862.
.
Neil Rogers-Davis
January 2019
For more information about Christopher Rawson Penfold, read the Australian Dictionary of Biography
---
Page first uploaded:13 January 2019