Angmering's American Horton family
.... and a stained glass window
---
For a number of years I have been intrigued as to why St Margaret's Church allowed a central stone mullion to be removed in one of the North Aisle windows and for a stained glass panel depicting the Adoration of the Magi, with a not particularly aesthetic iron upper support, to be inserted. Some have said that the stained glass was 16th century while others said it was 1930s. However, it was not until the summer of 2011 that I started to investigate its origins. But it was not so much the window that emerged as the surprise, but actually the family who donated it to the church.
This window also bears the following stained glass inscription:
"In loving memory of Lottie Gray Horton. Given by her husband William S. Horton and Capt. W. Gray Horton MC (Scots Guards) her son 1933"
For several years, I have been transcribing gravestone inscriptions in certain areas of the churchyard. In parts, undergrowth has covered a number of graves for more than 40 years. During 2011, community payback scheme workers had been clearing overgrown areas and this revealed a double grave bearing the inscription:
"In memory of Lottie Gray Horton. August 10th 1931 and William S. Horton December 5th 1936. My beloved mother and father."

This prompted some further research on this couple. Born in Grand Rapids, Michigan, USA in 1865 to wealthy parents (later to disinherit him), William Samuel Horton was to become a prolific and probably the best known American impressionist artist of his era. In 1892 he married Carlotta 'Lottie' Gray, a wealthy New York socialite and shipowner's daughter. They moved to Paris in 1893 where William trained and then flourished as an artist and had numerous collections exhibited in principal galleries in Paris and New York, some permanently. He won many awards and medals for his work during his lifetime. Their son William (later Lt. Col. William Gray Horton, MC, of the Scots Guards) was born in Paris in 1897. William Samuel Horton counted Monet and Degas among his friends.
But what was the Angmering connection that led to these burials in St Margaret's churchyard? It was the obtaining of William Gray Horton's military records from the Scots Guards' archives that opened another window on an amazing family. However, it was not so much the career records of William (known to family and friends as 'Gray') that provided a lead but his marital and family records and a small Times' obituary from 1974. These indicated two children, Robin and Carlotta, and another family member named Sokari.
Intense internet searches established that Robin was an internationally recognised anthropologist and writer, living in Nigeria, and Sokari was his young Nigerian-born sister-in-law, now Sokari Douglas Camp, a well known sculptor of African subjects living in London. Through her website, I sent a message to Sokari asking whether Robin and Carlotta were still alive as I wished to contact them to ascertain the origins of the Angmering window. Imagine my surprise when Robin Horton (now in his 80th year) phoned me a few days later from Nigeria – we chatted for about 40 minutes. The following week I talked to his sister, Carlotta ("Lottie"), who lives in France. Both of them were absolutely delightful and happy to provide me with family information that might help me in my quest.
At about the same time, I was contacted by a researcher of a WW2 tragedy (Jan Gore) who had obtained much information on one of the Horton family who had been a victim. What first emerged from all of this was that Harrow educated Gray Horton, his wife Gwendolen, and their children Robin and Carlotta, lived at The White Cottage (now White Lodge) in Rectory Lane, Angmering, during the 1930s. Both their marriage and their children's christenings were lavish society affairs performed in the Guards Chapel at Wellington Barracks – one of Carlotta's godparents was Princess Alphonse de Chimay. To illustrate their standing, below is an extract from a wedding announcement in The Times in October 1930:
CAPTAIN W. G. HORTON AND MISS LE BAS The marriage took place yesterday, at the Royal Military Chapel, Wellington Barracks, of Captain William Gray Horton, M.C., Scots Guards, son of Mr. and Mrs. William S. Horton, of New York and Paris, and Miss Gwendoline [sic] Anna Le Bas; elder daughter, of Mr. and Mrs. Edward Le Bas, of 28, Bryanston Square, W. The Rev. C. E. Chadwick officiated, assisted by the Rev. A. E. N. Simms, vicar of St. Mary's, Bryanston Square. The bride, who was given away by her father, wore a gown of white satin heavily embroidered with pearls, with long sleeves close-fitting to the elbow and finishing in a wide embroidered tulle frill to the wrist. Her full embroidered satin train was formed by the back of the skirt and was edged with tulle flouncing, and her tulle veil was held in place by a headdress of pearls. She carried a sheaf of lilies. There were three pages, Master John Macdonald-Buchanan, Master Michael Brooke, and Master Michael Bendix, and four little girl bridesmaids, Miss Venetia Wills, Miss Jean Macdonald-Buchanan, Miss Rosalind Barnes, and Miss Nerolie de Lavis Trafford. The maids wore high-waisted frocks of bright silver tissue with wreaths of gold leaves in their hair, and carried sheaves of gilded lilies. The pages wore long trousers of silver tissue with shirts of white ninon. Miss Molly Le Bas (sister of the bride) was the only grown-up bridesmaid, and she wore a long-sleeved dress of silver tissue and silver net, the skirt forming a short train at the back. She carried a sheaf of gilded lilies and had a head dress of gold tissue. All the bridesmaids wore crystal neck-laces, the gifts of the bridegroom, and the pages had gold sleeve links. Major Trappes Lomax, Scots Guards, was best man.
Their main house at that time was in Montagu Square in London, but The White Cottage (now White Lodge) in Rectory Lane was the country residence of Gwendolen's parents where the young family lived for much of the time. Robin, who re- visited Angmering in August 2012, has clear memories of his years in Angmering while living in his grand-parents' house.
Gwendolen's father was an extremely wealthy industrialist, Jersey-born Edward Le Bas, who died in 1935 and who is also buried in St Margaret's churchyard. Edward had purchased The White Cottage in the early 1920s. It is thought that his wife, Anna, is probably buried in the same grave although there is no indication on the grave to support this. Anna died in 1943 during WW2 in Clewer, Windsor, and her grand-daughter, Jennifer, believes she was probably brought back to Angmering to be buried.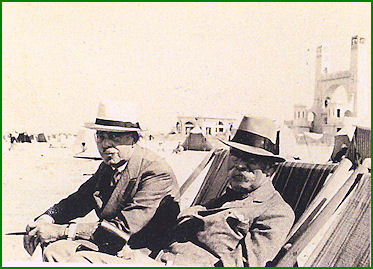 Edward Le Bas (Snr) & William Samuel Horton
on Le Touquet Beach, France, c1930
Edward and his wife had two other children – Edward and Molly. Edward Le Bas (jnr) (1904-1966), also educated at Harrow, was an artist of considerable merit whose works today each may change hands for tens of thousands of pounds. He was a member of the Bloomsbury Set and was at one time a close friend of the photographer, Sir Cecil Beaton. His sister, Molly Le Bas (1903-1996) became a well-known sculptor and married Montagu Brocas Burrows (1894-1967), later Lieutenant-General Burrows, Commander-in-Chief of West Africa Command of the British Army from 1945 to 1946.
In June 1944, tragedy struck while Gwendolen was attending a church service in the Guards Chapel at Wellington Barracks. She, along with 123 others, was killed when a V1 rocket hit the Chapel. Gray, a 1924 member of the 1924 British Olympic bobsleigh team and colourful character all of his life, married again in 1949, this time to Baroness Marcelle de Tornaco, divorced wife of the 1920s Belgian racing car driver, Baron Raymond de Tornaco.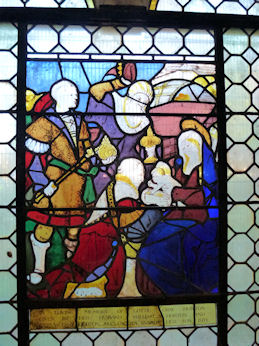 But what of the stained glass window panel? St Margaret's PCC minutes in June 1933 indicate that they approved of the design by William Drake, the renowned stained glass artist. The Littlehampton Gazette of 8 December 1933 recorded that the "recently added memorial window of 16th century glass" was dedicated by the Bishop of Chichester at a Sunday evening service.
In conversation with William Samuel Horton's grand-daughter, Carlotta, she told me that he was a great collector of antiques and objets d'art for his studio in Paris. It may therefore have been that the stained glass panel came originally from France – possibly from one of the churches destroyed in the Great War. The International Stained Glass Centre at Chartres has been approached to help identify the glass or country of origin but, to date, no reply has been forthcoming. Alternatively, Wilfred Drake (the window designer) may have provided the panel from one of his English sources - he procured stained glass for the Burrell Collection in Glasgow.
What we have established, however, is that the window in the North Aisle is part 1930s and part 16th century and a recent knowledgeable assessor has stated that, from the style of dress, the old panel may well have come from a church/cathedral in Low Countries. Many churches were destroyed or severely damaged on the Western Front during the Great War and the Angmering panel bears signs of repair.

.
Neil Rogers-Davis
January 2012
.
I wish to record my thanks to Jan Gore and to Sue Collins who provided me with valuable background information on the Horton and Le Bas families, to Robin Horton, Carlotta Hadley (née Horton), and Jennifer Langlands Pearse (née Burrows) for additional family information and Le Touquet photo, to Colin Clarke for his assessment of the window, and to David Kay for suggesting possible military and stained-glass information sources which turned out to be invaluable.
Note: The American Horton faimily is unconnected with the Horton family who settled in Angmering in the latter part of the 19th century and whose descendents still live in the village in 2012.
---
Page first uploaded:28 January 2012 (updated 8 August 2012)