Charities for the Poor
by RW Standing
---
Introduction
This article covers parochial charities administered by the Vestry, churchwardens and trustees, up to the division of responsibility for these between the Church and Parish Council at the end of the 19th century. Details of friendly societies and clubs which proliferated in Victorian England have been excluded apart from a small section briefly referencing some of them. This article may be expanded at a future date when research is more nearly complete.
---
THE ANCIENT CHARITIES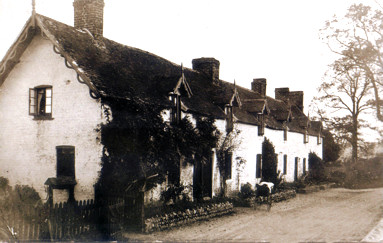 Thomas Martin Charity 1613 for poor people
John Reed Charity 1633 for poor people
Henry Hilton Charity 1641 for poor men
William Older Charity 1680 school for poor children
John Manning Charity 1724 for poor widows
John Day clerk Charity 1761 for poor people

***
Poor Cottages, or Longback Cottages 1728, six cottages (see 1912 photo right)

19TH CENTURY CHARITIES
Smart Augmentation Fund 1864 for the school
Jane Amoore Charity 1883 for poor people

Parochial Charities
Following the upheaval of the reformation, by the 17th century, administration of parochial charities had become an integral part of the vestry system. The parson, with the churchwardens and overseers of the poor, were recipients and administrators of parishioners bequests for the poor. From 1786 these charities were registered with Clerks of the Peace, and details forwarded to Parliament. Then from 1819 the Charity Commissioners published reports from which much of our knowledge of long defunct foundations is gleaned. From 1835 large municipal authorities, boroughs, took over civil charities from the church, but it was not until the creation of Parish Councils in 1894, that a similar step was taken in rural parts such as Angmering. The Charity Commission was established in 1853 to oversee all charities registered with them, and indeed since that time many clubs and societies have acquired charitable status although far removed from pure poor relief and education.
This article is principally concerned with the older parochial trusts and bequests, and those which have superseded them. There were many Benefit Clubs in the 19th century but these are not included.
Angmering Parochial Charities
Due largely to the effects of inflation, most early charities became defunct or lost by the 19th century. In their turn, several 19th century foundations lost all real value, and today these have been combined into just two charities. St Margaret's Angmering Trust, 1993, and William Older's Trust 1964, as refounded.
As is well known, Older's Charity School was originally created in 1680, and is the only ancient charity extant, and flourishing. The reason for this is interesting. Most other charities consisted of monetary funds invested securely, with minimal interest used each year for purposes of the trust. This left what may have been vast capital sums, gradually sinking in value especially in the 20th century. In contrast Older's was firmly based on land until recent years, the William Older farm. This increased in monetary value with inflation, and as it was the rents which were used each year to fund the village school, these receipts also rose in value.
In the neighbouring parishes of Littlehampton and East Preston what was a large bequest of £1500 in 1805, not involving real estate, is today of little value.
Recent accounts for Older's between 2001 and 2006, indicate that investment and other income rose from around £13,000 to over £15,000 in ordinary years.
Ancient Charities now extinct
There is very little information on charities and relief of poverty prior to nationalisation of the church by Henry VIII. Almshouses, schools, and the like, do not appear to have existed in Angmering, although provision for schooling there may have been.
It is from the very few surviving wills of the early 16th century that we find testators were more concerned about their souls, leaving sums of money for priests to say masses, or dirges. 'Item I bequeath 10s for a trentall of masses to be said for my soule and for the soulles of my grandfather … his wife … my mothers soule and all Christian soules.' [John Hochyn 1532] Come the Reformation of Edward VI and Protestant thought precluded masses, with the soul saved by the death of Jesus of Nazareth.
The parish now began to adopt secular functions, churchwardens and other officers began to take on responsibilities that included anything from highways to care of the poor. Wills now usually opened with small gifts to the cathedral and parish church, and continued with bequests to the poor. 'I give and bequeve unto the Peor Mens Boxe 6d." [Margaret Younge 1554] However, substantial bequests of capital to fund yearly outlay on the poor do not seem to have been made until the 17th century, at a time when the poor rate had also been instituted, administered by overseers.
The earliest source listing all parochial charities in existence at one time, is the Church Inspection Book of 1724. [WSRO EpI/26/3, and SRS 78]
'The Benefactions are the use of £5 to the poor given by Jn Reed and the use of £5 by Thom's Martin the Principal now in the hands of Wm Gratwick Esq.
Also the use of £20 by John Manning to poor Widows not receiving Alms the principal now in the hands of Wm Oliver
Also £16 per annum to 12 poor men by Baron Hilton.
In West Angmering is a School endowed with a peice of Land of the yearly value of £25 by Thom's Older for teaching 25 poor children of the said Parish. The psent Master is Mr Henry Walmsley for whom and for whose Successors there is built a good dwelling house and School house.'
The immediate remark has to be made that it is strange how, only 44 years after his decease, William Older should be called Thomas. Was there a simple confusion with Thomas Olliver who was the first trustee?
There is also a question about various bequests to the parish poor that were lost sight of before 1724. Or perhaps the money was used by the overseer and churchwardens immediately, and not invested so as to provide annual interest.
In this case poor people were each to be given a penny, with a total fund of £2 13s 4d.
John Young 1547
"I will 4 marks be gevyn to poore people by pennye dole ..."
John Henhays curate 1561 of East Angmering
"the poore people of my parishe 6s 8d"
Occasionally aid would be given in kind.
Stephen Chatfield 1580
"Item I give unto the poore of ... Angmering ... half a quarter of wheate and halfe a quarter of barlye"
Thomas Grawicke 1595
"Item I give ... to the poore of the parishe of Westangmeringe 10s"
But virtually every will made by people of any substance had a bequest to the church, and to the poor. It was the accepted ethic. It was not until the 17th century that Poor Law and the Overseer brought a new way of looking at the 'problem' of poverty. A poor rate being charged, and increasingly money given to the churchwardens to keep as a fund paying interest. How many paupers received a dole from the poor rate, and charitable aid in addition?
John Baker of Ecclesden in 1611
"Item I give to the Cathedrall Churche of Chichester Three shillinges and
fower pence Item I give to the poore of the parishe of Angmeringe Twentie shillings
Item I give to the poore of the parishe of Rustington Tenn shillinges Item I give to the
poore of the parishe of Lyminster Tenn shillinges."
Hugh Penfold 1659
"Imprimus I give unto the poore people of the p[ar]ish of Angmering xxs". [20 shillings]
Thomas Gittens 1678
"Item I give unto the poor of the parish of Angmering five pounds to be distributed among them at the discretion of my Overseers"
In the next instance it is made clear that the money was to distributed and not invested.
Thomas Gratwicke 1710
"And Lastly I give and bequeath to the poor of Ham and Angmering Five pounds to be distributed amongst them at the direction of my said Executors within one Month next after my decease."
If any of these were kept as funds nothing was known or reported in 1724. Substantial bequests and specific conditions were needed.
The final example is slightly amusing. Could it be that Edmunds was a cattle farmer and butcher.
He was indeed.
John Edmunds 1795
"Churchwardens and Overseers of Angmering £10 In Trust to be by them laid out in Beef and to be distributed to the poor of the Parish of Angmering"
Taking only those wills that received probate at Chichester, between 1601 and 1650, the total amount observed bequeathed to the 'poor' amounted to £5 - 6s. Excluding the Martin and Reade Charities. That is to say in an average year at least 2 shillings would have been distributed amongst the sick, old and infirm. Since at least 20 shillings can be added to that total from Canterbury probate wills, it is probable the annual average was nearer 3 shillings. Wages early in the century were about 1s a day.
These bequests were salves to the conscience. A truer and common sentiment was expressed by curate John Day in 1761, a landed proprietor. "As to the worldly Estate which it has pleased God to bless me with."
---
Thomas Martin 1613
Setting William Older aside, for the moment.
It is only recently that research into local wills has revealed the true origin of the earliest charity. That of Thomas Martin in 1613, his will stating;
"Item I giver will and bequeathe to the poore people of Angmeringe aforesayd
the some of fyve poundes of good and lawfull monye of England which I will my
executors within one yeare next after my decease shall paye to the Churchwardens and
overseers of the poore of Angmering aforesayd to be by them and their successors
yearly ymployed and bestowed uppon some Comodytey or other wyse that may [yeild]
yearly some proffitt or benefitt to be assured unto the same poore people…"
Similar sums were bestowed upon East Preston and Ferring. [WSRO A Dean 6]
Some little is known of Thomas Martin. Born in Ferring in the 1550s he lived much of his life in East Preston before coming to Angmering, and for a short period resided in London where he clearly pursued his career as a mercer. Latterly he had acquired land in Angmering in the common fashion of those who had found wealth.
In East Preston the source of the fund became entirely confused, with another person being given the credit. At least Angmering remembered the name, although not the date of foundation.
---
John Reade 1633
The next small fund came from John Reade husbandman of Ecclesden in 1633. ' Item I give and bequeath unto the poore of the parrish of Angmering [in Sussex] the some of Eight pounds of currant English money to bee delivered into the hands of the Churchwardens and Overseers of the poore of the sayd parrish to this intent that the use thereof shal bee by them distributed to the poore uppon the feast day of the Nativity of our blessed Saviour for ever.' John does not appear to have been a substantial person, owning little but sheep, but refers to his 'master' Thomas Baker, presumably of Ecclesden Manor, where indeed he may have lived.
---
Henry Hilton 1641
Baron Hilton's bequest dated from just prior to the Civil War, and is quite a different matter. No connection between the parish and such a personage is presently known about, but there is a note about him in a recent publication. [SRS 78] There is some considerable divergence in this account and the 1724 Inspection quoted, in which £16 per annum was available for 12 poor men of the parish. 'Baron Hilton is to be identified with Henry Hilton, listed in 1630 as of 'Clapham Esquire', where he died; his will, in which he is described as of Hilton, co. Durham, was proved on 3 March 1641. In it he left money to the churchwardens or overseers of parishes in a number of counties. Among them were bequests of £20 to each of 13 Sussex parishes …' This will is yet to be consulted. It is not known if any money was ever paid to Angmering.
---
John Manning 1724
Bringing the charities to their full complement in 1724 is that of John Manning, £20 to poor widows not receiving alms. This had only been established four years previously in 1720 by a yeoman farmer of the parish. 'Item … Parish of Angmering [£20] for ever to be putt out to Interest in very good hands … the use thereof to be yearly and every year distributed to the poor Widows of the said parish unto all the poor Widows the Churchwardens and Overseers of the Poor shall think to be in most want.' John was indeed wealthy by local standards, his goods and funds valued at £615, of which £580 was in funds no doubt representing a recent sale of his farm and stock. The Manning name being notable in the district although the family tree has not been completed.
---
John Day clerk 1761
John Day was a curate at Angmering and East Preston, and elsewhere, during the 18th century. Holding a small landed property at Rackham and related to the Palmer family of Bakers Row. Living at Angmering, he made his will in 1759 leaving forty shillings to the poor of the parish, and also £5 to a parish in Monmouth. Edwin Harris, in his historical pamphlet, mentions that two Charity Boards once existed in the pre 1853 church with this charity listed. It may be assumed payments were made annually until the 19th century.
John Day of Angmering Clerk, will made 30th April 1759 [PRO]
"Also I give and bequeath the sum of Forty Shillings to the poor of the parish of Angmering aforesaid."
His will was proved 1st October 1761
---
Poor Cottages or Longback Cottages 1728
(see photo at top of page)
This building will be the subject of a separate history, when research is complete. A general note is appropriate here if only to emphasise that these six cottages were not built as a charity in any but the loosest sense.
Poor Law legislation in 1722 encouraged the provision of parish workhouses, and it can be assumed this row of six cottages was provided in response. Those vast institutions that later became synonymous with the term were not yet needed in small parishes. The description, 'almshouse' has been used by Harris and others, but is not really apposite.
In 1910 Longback was reliably stated to be leasehold for 1,000 years from 1728 at a peppercorn rent, originally paid to Sir Cecil Bishopp, lord of the manor. [Add Mss 32872]
A 'Parliamentary Report' of 1777, is quoted in a workhouse history, in which Angmering then had a 'workhouse for 20 people' which is vague enough, but presumably signified the accommodation of Longback. Nearby Rustington had accommodation for 10 people, supposedly their cottages next to East Preston church.
In the Tithe map and apportionment of c1840, the Angmering building is merely described as being owned by Parish Officers. No tenants are listed but various rate returns do name the tenants, and indicate that the middle four were valued least, no doubt being slightly smaller, as is the case today with the ends extended beyond the original building.
When the new workhouse was built at East Preston, for the Union which had been reformed in 1869, all parish 'houses' were required to be disposed of. The Guardians had no choice in this matter. The poor could either maintain themselves, or go into the 'Spike'. A deed of 3rd January 1871 records the sale of Longback by the parish overseers to William Jarrett for £185. The sale took place in November 1870, at the Norfolk Arms, Arundel, when the six cottages were said to be worth 1s 6d each in weekly rent.
According to Harris, people 'retiring' or being sent there, spoke of "going in for the Longback". Rent was then 6d a week. The tenants may have had a small croft over the road as gardens.
******
In the 19th century inflation ate into the value of charitable funds, and several new bequests were more substantial. In the 1830s doles were still being distributed, including the yearly £1 from William Older, although a sermon on his burial anniversary had ceased. By 1862 the Manning, Reed, and Martin charities were lost, and the rent charge of Older's charity had not been paid for several years.
Edwin Harris, in his small book on Angmering in 1910, spoke of two boards which had been in the parish church before its 'restoration' in 1853.
One of the boards stated that John Reed left an annuity of £15, to be spent on bread for the poor, for ever. John Day left £5 also, for a similar purpose. There are people still living, whose parents received this bread at stated interval at the School. The remaining board gave particulars of a "Widows' Charity". This charity seems to have wholly, or partly, connected with Longback Almshouses.
There are obvious discrepancies between this account and the sums provided in wills quoted, although the funds may have been added to without record of this surviving.. As to the 'widows' this presumably referred to Manning's charity. Longback Cottages undoubtedly housed poor widows, and these may well have been the habitual recipients of his dole.
At the end of the 19th century a churchwardens' presentment makes the situation clear, as to surviving charities and their current use.
1897 Angmering
Ancient benefactions
"Here are none except such as are under the Charity Commissioners viz Olders Charity, Smarts Augmentation and Amoores charity all of which are applied to the schools. The Commissioners see to these."
[signed by churchwardens]
---
William Older 1680
The ancient charity that does survive, is well known as founding the village school on the site of the present library, opposite St. Margaret's Church. For the school history other articles have been written, and no doubt more will be. This history is of the charity itself, so far as is presently known.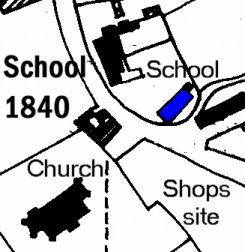 Older Family
The Older [Oulder or Owlder] family were most notable in the 16th century as extensive owners and occupiers of land in Ham, and as part owners of the manor itself. Thomas Older acquiring title from the Lewknor family, indirectly, but this was passed on to three daughters and by their marriage out of the Older family.
William Older, of lasting fame, arrived two generations later born in 1612, and in not uncommon fashion mourned several wives in succession. Sarah survived his decease in 1680, as mentioned in his will. However, his principal landed possessions were not in Ham, but across the road in East Angmering in the area that is today playing fields attached to The Angmering School there. It may be mentioned that Ham manor did have some outlying fields within East Angmering, but William's farm was part of East Angmering manor.
1679 Survey
The lands William owned were mentioned in the 1679 Survey of Angmering, conveniently one year before his decease.
Allso William Oulder holdeth freely of the Lord of this Mannor as of the said Mannor to him and to his heirs for ever One Tenement being a Messuage and Thirty five acres of Land with the appurtenances lying and being in East Angmering aforesaid bounded as followeth (viz) One feild inclosed containing by estimation Thirty two acres bounded by the Lands of Joane Penfold widdow called the Earth pitt on the North by the West Common feild the Lands of John Sturt and certain Lands of Humphry Grattwick gent called Irishes on the East by the Lands of Olliver Weeks Esq on the South And by the High way leading from Angmering to West Preston on the WestAllso three acres inclosed bounded by the lands of Olliver Weeks Esq on the North by the Highway on the South and west And by the lands of Mary Baker on the East and hee payeth rent by the yeare therefore Eight shillings And holdeth by Rel. Suit of Court and other services
[Margin notes] Acres xxxv Free School Land Rent viijs
Location of Farm
It should be made clear that his 35 acres was by traditional measure, and considerably more than its statute acreage. Earth Pitt to the north is where Dell Nursery and now The Dell housing estate is located. Rustington bypass cuts through the southern boundary of his farm, so that Weeks land was south of that. The highway is now Station Road. It is remarkable that all of his land was inclosed and compact, whereas much of East Angmering remained in common field strips. The only detached portion was the three acres, adjoining a highway on the south. This field is positively identified as land next to Roundstone Lane where the public house is situated and south to the caravan site at Roundstone Crossing. It was not until 1812, when the inclosure agreement for Angmering was finalised, that an exchange was made, and this three acres was transferred to adjoin the farm on the east.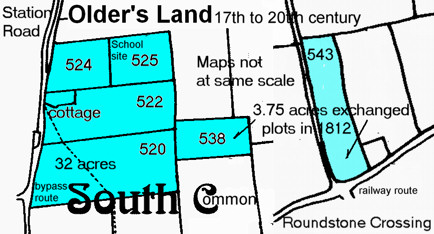 Area [Refer to map - right]
In the Tithe Apportionment of 1839 a fairly accurate survey gave a total of 32 acres 1 rood and 27 perches, which is 32.42 acres, or 13.12 hectares. This includes the cottage. The map to the right outlines the fields comprised in the property, with Older's Cottage – although the ancient house no longer exists. The two fields exchanged in 1812 are also indicated.

A freehold rent of 8s was paid by him to the Lord of the Manor, but this must not be confused with a market value for the farm, if let out by him to a tenant. He might have obtained a rent of that much per acre. Indeed in 1724 the property was said to be worth £25 to the charity, meaning the rent obtained at that time, which could not have altered much since 1680. His will also makes mention of 10s to be paid by the schoolmaster to the poor for every acre 'ploughed up' by the schoolmaster, an indication of market value.
1724 Survey:
"In West Angmering is a School endowed with a piece of Land of ye yearly value of 25L by Thomas Older for teaching poor children of the said Parish. The present Master is Mr Henry Walmsley for whom & for whose Successors there is built a good dwelling & School house."
Now, when it is considered that in the 17th century a farm worker could receive a shilling a day for wages, and a schoolmaster £20 annual salary, the income of the Trust was nothing excessive, if it included expenses on school apparatus for as many as 25 children in 1724.
It should be noted that the school was for both East and West Angmering, according to his will, and not only for West Angmering as the 1724 quotation might imply.
William Older's Will
William Older made his will in 1679, knowing he was "sicke in body" and probate was obtained in 1680. At this point it is necessary to mention that he not only had property in Angmering but also in adjoining Kingston. Both freehold and copyhold lands. The Kingston freehold only consisted of eight acres at a quit rent of 2s 4d, but the copyholds were substantial, thirty five acres by estimate, all at 42s 8d rent to the lord of the manor – Palmer of Fairfield in Somerset. Much of this acreage lay in the extensive open fields of the village, an amazing fifty separate plots ranging from five acres down to a mere quarter acre. It is therefore virtually impossible to map this farm in any useful fashion.

In the name of God Amen I William Older of the Parrish of East Angmering in the County of Sussex yeoman being sicke in Body but of sound & perfect mind and memory God be praysed Doe make & declare this my last will & Testament in manner & forme following (viz)
Inprimis I commend my soule into the hands of God my Creator hopeing to have pardon of all my sinnes through the meritts & mediac'on of Jesus Christ my only Savyour & Redeemer And my Body to the Earth to bee decently buryed according to the discrec'on of my Executrix hereafter named
And as concerning such Temporall Estate as it hath pleased God in mercy to lend mee I give the same as followeth
That is to say I give the summe of One hundred pounds to Thomas Olliver of East Angmering aforesaid yeoman to bee by him laid out & disposed of so soon. after my decease as conveniently can bee uppon Trusts & for the uses herein after menconed
That is to say That the said Thomas Olliver doe purchase an howse & garden in East Angmering aforesaid or West Angmering in the County aforesaid or a small parcell of Land & build an howse thereon to Humphrey Gratwicke of Hamm in the parrish of Angmering aforesaid Gent the said Thomas Olliver & Hugh Penfold of East Angmering aforesaid yeoman & to their heyres for ever To the intent & purpose that the said [EG TO HP] & the Churchwardens of the parrish of Angmering & their heyres & successors for ever shall from time to time at their discretions place in the said Messuage or howse so. to bee bought purchased or built a convenient Schoolmaster for the teaching & instructing poore Children within the said parrishes of West & East Angmering or either of them Which said Schoolmaster shall from time to time have the use & benefitt of the said howse & garden
And for the better mayntenance of the said Schoolmaster I doe by this my will give & devise unto the said [EG TO HP and Churchwardens] for ever All my Messuage Lands Tenements & herediments whatsoever situate lying & being in the parrish of East Angmering aforesaid
Uppon trust & confidence that they the said [names as above] shall from time to time & at all times p'mitt & suffer Sarah Older my loveing wife to receive & take upp the Rents & profitts of the last menc'oned Messuage lands & Tenements during her naturall life
And after her decease for ever hereafter shall permitt & suffer such Schoolmaster aforesaid to receive & take the Rents Issues & profitts of the said [as above] for his paynes in teaching the poore Children of the pishes of East & West Angmering aforesaid
And my will intent & meaning is that yf either the said Sarah Older or such Schoolmaster or their assignes shall plow or breake upp any or all of the fore menconed lands That they shall pay to the poore of the parrish of Angmering aforesaid the summe of Tenn Shillings per Annum for every Acre soe plowed or broken upp dureing the time they continue it plowed

[Further conditions relate to the school and do not concern this history. The will continues:]

And whereas at a Court holden fo the Mannor of Kingston the Fourteenth day of Aprill now last past I have surrendered into the hands of the Lord of the said Mannor diverse Coppyhold lands & Tenements held by Coppy of Court Roll of the said Mannor to the use of my last will & Testament And for the performance thereof
Now I doe hereby give & devise All & Singuler the said Coppyhold Lands &c Tenements with the appurtenances unto the said William Oliver To have & to hold the same unto the said William Olliver his heyres & assignes for ever according to the Customs of the said Mannor
Also my will & intent is that the said William Olliver his heyres & assignes shall from time to time pay out of these Freehold Lands lying in Kingston & Goring the summ of Twenty shillings per Annum to the poore of the parrish of Angmering aforesaid to bee distributed according to the discretion of the churchwardens & overseers
And Ten shillings every yeare to a Minister to preach a sermon yearly for ever uppon the same day I am buryed.
Sarah Older his sole Executrix - dated 16th March 1679
The Older Charity was, in reality, three charities.
1 - Rent from his Angmering lands to maintain a schoolmaster and his schoolhouse.
2 - A pound annually to the poor of Angmering, from his copyhold of inheritance lands in Kingston.
3 - Finally 10s annually to the Rector to preach a sermon, out of the freehold lands in Kingston and Goring.
This last a rather interesting post-Reformation substitute for a chantry.
The Kingston lands were bequeathed to William the son of Thomas Olliver. Thomas died in 1687 and William in 1736, and these lands continued in the family until they took over Kingston manor in its entirety.
Thomas Olliver and the other trustees proved to be diligent in their duties, and in March 1682 [modern calendar] a plot of ground 5 ½ perches was purchased from John Stone, who owned what is now Church House north of the library, for £1 out of the £100.. [HC 525] A house for the teacher, with its schoolroom, was then constructed and so began the history of Angmering Older's School. Much later in the 18th century some of the dwelling houses in Angmering, were valued at around £100 with their gardens. As it transpired a better site may have been chosen, having room for a larger building and playground, but such foresight was impossible, although a minimal area of land was taken in from property to the north and East Angmering churchyard.
The Land
There is a note in Older's will that prohibited ploughing of the land by the schoolmaster, other than by his paying a sort of fine, ten shillings per acre to the poor annually. Whether he actually meant that if the schoolmaster used the farm himself he was to pay this rent for it, is not clear. There is no obvious reason to protect the land as grazing, but in the Tithe Map it was all grass. Unfortunately no earlier surveys confirm that it had been so from 1680.
This compact holding might have been let out as complete as a farm, but such records as have been seen suggest that the cottage was let separately, and each field let as opportunity arose. Any farmer who wanted extra grazing could rent some or all of the several closes as opportunity arose.
The Tithe Apportionment lists the tenants, areas, and tithe rent payable to the Rector.
It was described School land and Grass.

Amoore William
520 11a 3r 15p
538 3a 3r 0p
15a 2r 15p
Rector £4 2s 0d

Cortis John
522 8a 0r 22p
Rector £2 4s 6d

Green George
523 Cottage and garden
0a 3r 5p
Rector £0 4s 9d
Baker Henry
524 3a 3r 10p
525 4a 0r 15p
7a 3r 25p
Rector £2 2s 0d
A sum of £8 13s 3d tithe rent, represented over 5s an acre in addition to the rent charged by Older's Charity, which had increased to around three pounds an acre.
Income
Income for the Charity remained entirely that from its rents until elementary education legislation in the 19th century brought government grants. From £25 in its earliest days, rent for the 32 acres rose through £40 in the late 18th century to £105 in the inflationary years of the early 19th. It then reduced slightly, until about the time of the Tithe Apportionment under £3 an acre was being charged.
Still in the 1860s there were no grants, and rental income had risen again to above £100. A typical entry in the account book which survives for that period includes £6 annual rent for the cottage. Three tenants of the several fields, were paying £96 10s per annum. That is £102 10s total.
Receipts
Balance Brt Frd £1 11s 0 ½d
Oct 11th 1862
Recd of George Green 1 years Rent of School Cottage due Oct 11 £6 0s 0d
1863 Jan 16
To Half Years rent due at Michaelmas 1862 from
Mr Amoore £23 5s 0d
Mr Cortis £12 0s 0d
Mr Belchamber £13 0s 0d £48 5s 0d
[total] £55 16s 0 ½d
Crd Frd £4 0s 4d
To put this income into perspective. At the workhouse in the 1830s the female teacher received only £5 salary, but with full keep At East Preston the schoolmaster in the late 1840s had under £50 salary. While at Angmering, admittedly with several times the pupils, the schoolmaster by the 1850s had a salary of £80, which was indeed twice the national average for elementary schools. Albeit, accounts in the 1860s give his salary as £65 quite reliably and consistently.
Managers
According to the Older will, Thomas Olliver of East Angmering was entrusted with £100 to buy land in order to build a school. The Trustees were thereafter to be Thomas himself, Humphrey Gratwicke of Ham, and Hugh Penfold of East Angmering, and their heirs. Together with the two Churchwardens of the parish. Often enough the churchwardens included an hereditary trustee.
Consequences from such a condition might have been unfortunate, had the heirs all have been inhabitants of other distant parishes. As it was the Olliver family continued to own Pound House and farm, although later generations lived at Kingston nearby. Thomas died 1787, presumably handing over to William d1736, William d1745, William d1820, George d1831, George d1861, and so to George Kingston Olliver who brought the succession to a close. In 1861 when George died he was spoken of as an hereditary trustee in the manager's book. His son does not appear to have been very active in the trust, although named in 1864.
Humphrey Gratwicke of Ham Manor had successors there through to the 19th century, after his decease in 1686. Thomas 1711, William 1740, his brother shortly afterwards, William 1821, and grandson William Kinleside Gratwicke the last of the family who died 1862. It is assumed Rev. Pearse may then have taken the post.
As for Penfold, it is not clear how far this succession continued. The line falling away before 19th century records begin.
Whether it was an omission not to include the rector with the churchwardens, cannot be decided. Edward Blaxton having just died in 1679, perhaps William Older had not decided if the new rector would be reliable or even resident. In later years the Rector became one of the principal trustees, chairing meetings as might be expected.
A long list of churchwardens would not be very useful, as this can be found elsewhere. Undoubtedly they succeeded each other as trustees, as in the accepted way with parochial charities.
Victorian Values now began to erode old casual ways of the vestry and village elite. The parish was now under supervision by Poor Law Commsioners at the workhouse, and Charity Commision at Older's School. "We know how to look after our own poor" was a dying cry.
The hereditary trustees were also dying out and in 1861, after Olliver's decease, at first only WGK Gratwicke Esq and Mr William Miles as churchwardens were left, according to the manager's book. For some reason the Rector was not mentioned. Gratwicke must also have been hereditary trustee.
In 1864 a deed provides a complete list, made up of the Rector, churchwardens, and George Kingston Olliver of Kingston, with Rev William Pearse of Ham as hereditary trustees. William Miles probably one of the churchwardens as he was for many years. Towards the end of the century Henry Fletcher and SS Pyle were churchwardens year on year, with Mr Pyle retiring after 26 years on leaving the parish in 1921.
A minimal number of trustees and managers continued in this way until 1899, when it was resolved to elect two 'parents' as managers of the school, while making it clear they were not also trustees.
---
19th Century Charities
Smart Augmentation Fund 1864 for the school
Jane Amoore Charity 1883 for poor people

***
At the end of the 19th century a churchwardens' presentment makes the situation clear, as to surviving charities and their current use.
1897 Angmering
Ancient benefactions
"Here are none except such as are under the Charity Commissioners viz Olders Charity, Smarts Augmentation and Amoores charity all of which are applied to the schools. The Commissioners see to these."
[signed by Churchwardens]
---
Miss Jane Amoore Trust
This was initially established to provide each quarter the sum of 10/- to 8 poor people within the parish. On 14 July 1997, the Charity Commission agreed, as the remaining capital was so small, that the capital could be used as income and absorbed into the St Margaret's Angmering Trust. This was then fully used to provide two Christmas parties for the elderly of Angmering.
Charity Commission 2008
Jane Amoore Charity 235095
Will proved 10th May 1883
To give quarterly to eight poor people each the sum of ten shillings
Made defunct in 1997 under Charities Act 1993
That is to say 10 shillings quarterly to be given to each of eight poor people. £4 quarterly and £16 a year. It may be assumed that deductions reduced this £4 to less than £3 15s net.
Edwin Harris 1910
The Amoore Charity consists of a Legacy of £500 left in 1883, to be distributed amongst the poor, aged, and infirm of Angmering.
From 1883 to 1903 there was an average of 21 persons over 70 years of age living on a sum of 4¼d or less a day, in out-relief. Not one of these received aid from this Legacy. On the contrary, it relieved the rich from subscriptions, for during this period the legacy was used to maintain the Schools, Older's Endowment, together with the Government Grant, not proving quite sufficient for the purpose.
In 1903 this practice was discontinued by order of the Government. In 1909 the whole amount so used was ordered to be refunded. The Parish Council will presently take over the control of this Legacy.
According to the Victoria County History draft
In 1893 Miss J. Amoore's charity, founded by will proved 1883 and later incorporated in the St Margaret's Trust, distributed £3 15s. a year, interest on £137 stock, in money and kind to the poor; it also received £3 interest, presumably distributed likewise, on money lent to Older's charity for enlarging the school.
The [school] building was enlarged in 1884 with money from Smart's fund, founded by deed poll of 1864 to aid the school, and with money borrowed from Amoore's charity.
Edwin Harris's recollections would appear to be justified by the record. At the first Parish Meeting, of the new civil parish council, in 1895, accounts ostensibly for the Amoore Charity and Smart's Fund were to all appearances accounts for the school. There were no specific figures that can be quoted, for either fund. An annual school budget now £464, with government grants hiding income from the charities.
But then inserted in the 1902 and 1903 Minutes, are notebook pages with accounts headed 'Jane Amoore Charity'. The 1903 insert refers to, three year's interest of £34 - 3s derived from £421 – 10s – 6d Consols, which is just over £11 for each of the previous three years. Expenditure was not on the school but on coal for 67 beneficiaries, costing £23 – 9s. It is not clear, but that may have meant just over twenty beneficiaries each year. At 28s for a quarter ton, that works out at 1 ¼ cwt per beneficiary. Enough for one fireplace or oven to last a week.
There is at least one more statement for the Amoore charity dated 1920-21. John Penfold the churchwarden records four quarterly amounts paid over to the Rector, which he presumably distributed to the un-named 'recipients'. Between July 1920 and March 1921 [the financial year based on the old calendar year] a total of £14 15s interest was received. This was distributed quarterly, to 14 recipients in the first two quarter and to 15 recipients in the final quarters. Perhaps representing around 4 percent interest on the capital with deduction for duty.
In Vestry Minutes
Rectors Statement Amoores Charity 1920 – 1921

July 9th Received from Mr J Tompkins 4 – 0 – 0
Jan 7 1921 do 3 – 10 – 0
October 29 3 – 10 – 0
March 30 3 – 0 - 0
Balance due to Rector 15 – 0
£14 – 15 – 0
To distribute among 14 recipients
for Quarter ending June 30 3 – 15 – 0
To distribute among 14 recipients
for Quarter ending Sep 29 3 – 10 – 0
To distribute among 15 recipients
for Quarter ending Dec 31 3 – 15 – 0
To distribute among 15 recipients
for Quarter ending March 25 3 – 15 – 0
£14 – 15 – 0
---
Smart Augmentation Fund
Edwin Harris 1910
The Smart Augmentation Fund consists of a sum of money amounting to £1000, derived from the sale of a space in the churchyard. The interest from this sum went to the Schools. It may be remarked that £1000 for a grave space is an astonishing sum if correct.
Victoria County History draft
According to VCH the Fund was started in 1864 by deed poll.
Charity Commission
The Charity Commission provides no details publicly.
Managers' Books
Managers' books for Older's School do not mention the fund until 1871, and then without comment on the source of the income. Thereafter until 1876, the annual income or dividend continued at £8 18s 6d. A very useful but relatively small addition to a yearly budget rising towards £150.
It would appear this fund was created by Henry Smart, gentleman, buried with his ancestors in a large altar tomb assemblage to the south of the churchyard lychgate. Henry of Worthing, was the grandson of George Markwicke, the owner of Pigeon House and Elmgrove Cottages together with considerable other property in Sussex. Elmgrove was sold by Henry in 1863, and Pigeon House about the same time.
But reading the original deed poll at WSRO is revealing. [HC 1114]
Witnessed by the schoolmaster John Gregory, this deed was between Henry Smart and the rector Revd H. Reeks. Henry was an attorney, previously of London but latterly Worthing. Revd. Reeks a trustee for Olders School. WGK Gratwicke had recently died, as another trustee, and it was this event that necessitated action.
Despite the deed poll of 1864, the Fund had been in existence since 1851, when Henry Smart entrusted WGK Gratwicke with a sum of £200, to be used for the benefit of the school. Yet, for reasons that are not explained, no use had been made of this money, other than to invest it in three percent consols so as to accrue interest. Now it was worth over £277 in consols with another £20 in cash. With the Charity Commission available, Henry Smart was determined this fund should be handed over to them, as an official charity, with the title, "Smart Augmentation Fund" for the, 'purchasing pens ink paper slates pencils writing materials books and other articles and instruments of instruction … used in the aforesaid School by the poor pupils and scholars'. There is no mention of a gravespace, or of such a vast sum as £1,000.
In the light of future events, namely school enlargement in 1884 using part of the fund, decried by Harris in 1910, the final provision made by the Deed is very significant. "From and after the expiration of ten years … it shall and may be lawful … to make such alteration in the application or discharge of the Dividends or annual proceeds arising from the aforesaid Trust Funds or any of them as they shall think proper but such altered application or disposal shall nevertheless in all cases be for the benefit … of Olders School". The dividends at least were by 1884 available for any school use particularly required.
---
Clubs and Friendly Societies
Although this is a subject in itself, with so many extra-parochial activities in the 19th century, it is worth noting that clubs did exist especially after the Swing Riots of 1830 gave pause for thought. It may well be that villagers' allotments on the glebe lands were provided by the Rector soon after the year of riot.
In 1847 the Rev. Reeks [WSRO Par 6/6/2] made up his accounts, mentioning donations to various causes. This included a Coal Fund £1; Flour for the poor £3, Penny Clothing Club £1, and two clubs that figured over several succeeding years – Old Man's Club, and Young Man's Club, both with regular subs of 10s, besides the cost of a dinner with each at 5s to 6s.
Later on in the 1870s the church leaflet included notes on various clubs and doles. Whether any of these were in direct descent from 1847 is unanswerable. A Clothing Club, Coal Charity, Boot Club from 1874, Village Library, C of E Temperance Society, Working Men's Reading Room or Men's Club from 1875, and a Savings Bank.
---
MODERN CHARITIES
Some modern charities related to the church.
The St Margaret's Angmering Trust was set up in 1994 for general charitable purposes. It ensures that money left to the church for specific purposes is fully utilised in the way intended by the benefactor. Other monies left without specific aims have been used for a range of organisations both within and outside Angmering. Within Angmering money has gone to church related projects such as the Vestry Hall, St Margaret's School outings, and £4000 to The Angmering School (comprehensive). It also provides grants of overseas aid and famine relief. It can also make grants to individuals.
Margaret Butcher Prize Fund
This was a fund set up by the Butchers of Ecclesden Manor to provide prizes for schoolchildren at Christmas. In 1994, as only a small amount was involved and as it was educational, the Charity Commission agreed that it could be absorbed into the William Older's School Charity.
Miss Jane Amoore Trust
This was initially established (in 1893) to provide each quarter the sum of 10/- to 8 poor people within the parish. On 14 July 1997, the Charity Commission agreed, as the remaining capital was so small, that the capital could be used as income and absorbed into the St Margaret's Angmering Trust. This was then fully used to provide two Christmas parties for the elderly of Angmering. The sums stated do not tie up with the VCH version.
Miss Ellen Baker Trust
This was a sum provided by Miss Baker for the Church to maintain Baker graves in St Margaret's churchyard. On 14 July 1997, the Charity Commission agreed, as the remaining capital was so small, that the capital could be used as income and absorbed into the St Margaret's Angmering Trust. This was then fully used (along with the Jane Amoore remaining money) to provide two Christmas parties for the elderly of Angmering.
Mrs Agnes Todd Fund
This was money left to the Church by Mrs Todd but it was never in trust. It was intended the Church used the money for maintenance of the churchyard provided it maintained the grave of Peter Stevenson Todd. The money was eventually absorbed into the St Margaret's Angmering Trust.
The other principal trusts are, of course, the William Older's School Charity and the Aubrey Fletcher Recreation Ground. The William Older's School Charity continues to provide financial assistance to the families of the youth of Angmering whether in the schools or towards further education (academic or arts related) where they are unable to finance such courses themselves, or to organisations within the village that are youth orientated. The charity's activities are stated as being "To help in areas where the State does not provide funding it has been very helpful to individuals, the school and in more recent times playgroups in the village". The Trustees of the Charity normally meet termly in January, May and October. They would welcome requests for grants in advance.The Aubrey Fletcher Recreation Ground provides buildings/facilities/open space for the benefit of children/young people and other charities or voluntary bodies within Angmering.
RW Standing
May 2008
Page first uploaded: 8 May 2008