Clement Woodthorpe Chaplin
- a dedicated doctor & parish councillor
---
Few parishioners of Angmering have dedicated their lives to the well-being of the village to the extent that Clement Chaplin did. He was Angmering's doctor for 41 years and chairman of Angmering Parish Council for no less than a quarter of a century from 1921 until 1946.
The early years
Clement Woodthorpe Chaplin was born in Islington in 1876, the youngest of seven children (two died in infancy 4) of wine merchant Robert William Chaplin and his wife Ellen Mary Orton Godbolt 1, 2 . The family name "Woodthorpe" was the surname of his maternal grandmother who came from a Suffolk family 2.
At the time of Clement's birth the family lived at 58 Mildmay Park, Islington, (then in) Middlesex. Censuses register him as residing with the family at least until 1901, by which date his father was 67 and retired. Census evidence indicates the family lived at 81 Lewisham High Road, Deptford in 1881; 124 Breakspear Road, Deptford in 1891; and at 96 Breakspear Road, Deptford in 1901.
Clement attended The Herrick School where at Christmas 1889 he was awarded prizes for Algebra and Euclid. He then attended St Olave's School, Southwark (Queen Elizabeth's Grammar School of St Olave and St John, Southwark) and was awarded prizes for Mathematics, Chemistry, Divinity and French in the early 1890s 4.
By 1901, Clement had qualified as a doctor and is described in the census of that year as a "Physician Surgeon" living in Islington 3. His medical training was undertaken at the London Hospital where he did so well that he won the Gold Medal for the most outstanding graduate in the country in 1907 4. It is quite likely that he was hospital-based as in the same year - 1907 - he married Agnes Harris from Guildford, a senior nursing Sister 4, 5.
Clement had also achieved a number of qualifications by 1905 which included: MRCSC (Eng) (1899), LRCP (Lond) (1899), MB ( 1903), and MD (1905) 20 .
Move to Angmering
Marriage saw Clement's career change both direction and location. Immediately following their marriage, Clement and Agnes moved to Angmering where he established his surgery at "Winona" in the High Street.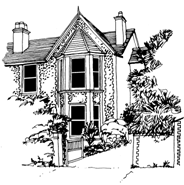 This was a new large semi-detached property, probably built by his next-door neighbour, the builder and local historian Edwin Harris. In the early years, Clement rented the house from Harris 6 but, at some stage, he purchased it as a leasehold property 4. A surgery was constructed adjoining the house. Today, the house is known as "Chaplins" - a very fitting name and memorial to an outstanding contributor to the quality of life in the parish - see drawing left . 19
It was here that Clement and Agnes Chaplin raised their family - Roger Woodthorpe (b.1908), Ruth Mary (b.1909), George Woodthorpe (b.1914), and Prudence Plunkett (b.1915) 4, Plunkett being the surname of Clement's paternal grandmother 2 .
Clement wasted no time in integrating himself into the community. In 1910 he was appointed as a trustee of the William Older's Charity 7.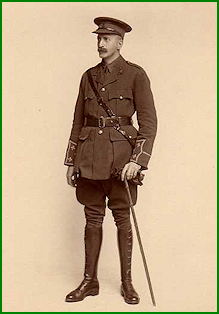 Additionally within 5 years of arriving in Angmering, he had also become an Angmering Parish Councillor, a member of Angmering Cricket Club, a member of the local Conservative Primrose League and, more bizarrely, a member of Angmering Rat & Sparrow Club - the last being an organisation not only formed for the extermination of two very destructive pests, but also to provide its members with periodical gatherings of a convivial character 8.
Within seven years of the Chaplins' arrival in Angmering, Europe had been plunged into war. Early in the war saw Clement volunteer his services, as surgeons were in great demand. In October 1915 he joined the Royal Army Medical Corps and saw service in Egypt as a Surgeon Lieutenant and saw service in Egypt as part of Eastern Command. His war medals included the 1914-15 Star, British War Medal, and Victory Medal and finished his service as a Captain (see photo right) 4. By the end of 1917, Clement was back in Angmering and residents (according to the local broadsheet "Scribble") were "right glad to have him there once more". At much the same time a qualified nurse took up residence in the village, possibly under Clement's direction 9.
The following year saw the end of hostilities but a new enemy had already emerged - the Influenza pandemic of 1918-1919, which killed somewhere between 20 to 40 million people worldwide! In Angmering, as elsewhere, the demands on doctors were almost untenable. In a letter to a cousin, Clement wrote 4 :
"Since I started work again (i.e. after his return from WW1 service) I have been properly busy and the influenza has kept me at it as hard as I could go. Luckily none of us had it and also it took its time to travel round this district so that I had time to get one village fairly free from it before another became a hotbed. But even with the distribution as it was the work was stiff".
Parish Council work
Clement's concern for the welfare of villagers did not end with their medical care. He also must have felt strongly about the governance of the village, particularly after the end of WW1 when there had been vast social changes and expectations of residents, and particularly the so-called "working class", were much raised. He joined the Council some years earlier but was elected its Chairman in 1921, a position that he went on to hold continuously until 1946 10.
Actually, there was a strong connection between his medical duties and his work with the Parish Council. Living conditions in many of the old houses were appalling and contributed to the spread of disease. No doubt Clement and some of his fellow councillors, especially the socialist Edwin Harris, were determined to improve the situation, even if it meant coming into conflict with the village magnates who owned such property. The problem had already been identified some years earlier when Edwin Harris wrote starkly in his 1912 politico-historical electioneering pamphlet 11:
"Throughout the parish, the evils of bad housing are still very evident. Quite a number of cottages have but one room, to serve as a living place, parlour, sitting room, and dining room, with another above it, with ceiling and floor consisting of a single half-inch of board, which perforce must be, sleeping place, birth place, nursery, and death place."
Through the 1920s and 1930s, Clement and his Council went on to clear Angmering of insanitary conditions which included demolition of these old dwellings, and the introduction of mains sewerage and mains water 10.
Clement was also closely involved with St Margaret's Church as a member of the Parochial Church Council by 1918 and into the 1920s during which time he had been appointed as a sidesman. Later he was elected as a churchwarden from 1922 to about 1925 12.
Back to Angmering Parish Council, Clement helped guide Angmering through the Second World War when the village was identified as a Nodal Point - an area designed to protect the civilian population in the event of enemy invasion. The main reasons for Angmering's selection were probably its near coast location, and its proximity to the radar station at Poling. Nodal Points were governed by a triumvirate consisting of the local military commander, the chairman of the parish council, and the senior police officer 13.
It was also a sad time for Clement and Agnes when their younger son, Major George Woodthorpe Chaplin, was killed on 2 December 1944 while serving in Italy 14. They may, however, have had the consolation of knowing that George, like his father, had gone beyond the call of duty and had been awarded the Military Cross earlier in 1944 15.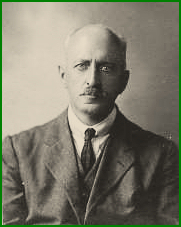 In poor health and no doubt exhausted by demands of the Council, the war, and not least by his medical care of the population of Angmering residents and those of the surrounding parishes, Clement retired from the Parish Council in 1946 10. He also sold his medical practice on 1 April that year 4.
Referring to the fact that Clement had been a member of the Council for some 34 years it was proposed that he be presented with a testimonial and whilst the view was expressed that this was something he would not be in favour of, the Council nevertheless decided to go ahead. A grand total of £121 was collected from sources in Angmering and East Preston which was presented to Clement in the form of a cheque 10. (Note: In 2010, the purchasing power of £121 (in 1946) was worth £3740 using the increase in the retail price index or £11,974 using the increase in average earnings.)
On Christmas Day 1949, at the age of 74, Clement died which must have saddened his patients as he was a well-loved doctor. Agnes, although never a well woman, lived on until 1954. They are buried in the lower south side of St Margaret's churchyard in the village. A slab over their grave reads16 :
In Loving Memory of / Clement Woodthorpe Chaplin, MD / Interred into rest /
Christmas Day 1949 / Aged 74 / Jesus Lives. /
Also of his younger son / George Woodthorpe Chaplin, MC / Major 5th Bt. Grenadier Guards /
Killed in action in Italy, December 1944 / Aged 30 years / Counted worthy. /
Also of his beloved wife / Agnes / who for 42 years shared his joy and sorrows /
Died 28th March 1954 / Aged 80 years.
The family man
The foregoing tells us what Clement Chaplin achieved, but tells us little of the man himself. What we do know is that he was a very tall man, 6' 3", but quite softly spoken. His sons Roger and George inherited his stature being 6' 2" and 6' 5" respectively 4.
Clement and Agnes's four children were all educated privately. After leaving school, both Roger and George joined the Bank of England, Roger rising to the rank of Principal. Following his marriage to Flora McDowell in 1936, they had two children 4.
George married Jocelyn Paterson in March 1940 and their only child, a daughter, was born in 1942. He volunteered for war service in the late summer of 1940 and following Sandhurst was commissioned into the Grenadier Guards. After training in Scotland he was stationed at Windsor, and with the 5th Battalion fought in Tunisia and Italy. As a Captain, he was Intelligence Officer for the Battalion during the Anzio campaigns of January/February 1944, during which he was involved in action for which he was awarded the Military Cross. He was promoted to Major in 1944. George was killed in action at Monte Sole on 2 December 1944 4. George's MC citation read 4:

"On 4 Feb. 1944 at CARROCETO, No. 2 Coy which had been heavily attacked by infantry and tanks throughout the night, was completely cut off from the Bn and all communications had broken down. It was not possible to reach the company without going over about 200 yards of open ground in full view of the enemy whose machine guns invariably opened up on any observed movement. The Commanding Officer ordered Lt. Chaplin to go forward to see if it was possible to reach the Company. Disregarding the enemy fire, Lt. Chaplin made his way through heavy MG fire to the company, and personally visited all three platoons, encouraging the men and giving them information about the battle as a whole. This action greatly raised the morale of this company. Lt. Chaplin returned through enemy fire having obtained for the Commanding Officer detailed information about the night's action and the names and numbers of casualties.

On the night of 7/8 Feb., BNHQs was in a gully - to which the enemy penetrated in strength having overrun three coys. The enemy took up positions on the top of the cliff which overlooked the HQ, and started firing at short range with machine-pistols, LMGs and hand-grenades into the Command Post. Lieut. Chaplin went out alone on his own initiative, climbed round the entrance to the gully and by throwing hand-grenades at the enemy kept them from the edge of the cliff for long enough for the Command Post to be moved. But for this gallant and spontaneous action the enemy would have been able from the cliff-top to drop grenades right into the Command Post and would have destroyed Bn.HQ."
Their daughter Ruth joined the Foreign Office in the 1930s which lead to postings in Washington DC and other locations in Eastern Europe. She was awarded the OBE in the New Year Honours List 1965, after she had returned from being Third Secretary in the British Embassy, Moscow. She spoke several European languages including Czech and Russian. Clement and Anges's younger daughter Prudence went into nursing on leaving school but with WWII she joined the ATS and was an Army driver, driving troop carriers and later on being personal driver to a Brigadier. She married Lionel Mackay 4.
Reminiscences of villagers and family
But it is probably from the memories of villagers that we will learn most about Clement. The following are extracts from "Angmering - Reminiscences of bygone days" 17:
Ivy Francis (1908-2001)

Dr. Clement Chaplin came to Angmering in 1905 and his surgery was a wooden structure built in the garden of his house in the High Street. The waiting room had hard benches, no heating, and his bicycle, on which he did his rounds, stood in the corner. Later he invested in an open tourer of a pre-war vintage. He would never allow anyone to clean the surgery, so it was festooned with cobwebs on the ceiling. He made up his own medicines in the little cubby-hole by the side and held two surgeries every day and one on Sunday.

Before Dr. Chaplin came, the nearest doctor was at Littlehampton who came in a horse and trap and for medicine one had to go all the way to Littlehampton. There were no buses, one could go by train and change at Ford, so if you did not possess a bicycle, Shank's pony was the only answer.

Dr Chaplin ran a club to cover payment for treatment and some of the men paid into Friendly Societies. Patent medicines like Iron Jelloids and Kruschen Salts were bought at the grocer's but everyone had their own remedies. My aunt took hot water for indigestion. Father had a boiled onion for a cold and we rubbed our chilblains with a raw onion. When I fell in the playground and broke my arm, Dr Chaplin set it and told my father to send the bill to the school authorities - and they paid it.

One day Dr Chaplin called on a lady when she had slipped to the "loo" and as she had left chops frying on the stove he obligingly turned them for her. She complained that she couldn't keep her boys in bed with measles so he suggested throwing tin-tacks on the floor.

He would also extract teeth if necessary, not always giving an anaesthetic. His daughter, Prudence, said that he attended to her lying on the dining room table. Of course, there was no district nurse but several local women would help out with nursing.

In the summer, Mr Harris used to bring his fair to the ground behind Chappy's garden. However, the doctor objected and, since no one dared disagree, it came no more. When a meeting was held in the school - now the library - to discuss street lighting, he vetoed this too as he wanted to keep Angmering a village.

His wife, a formidable lady who had been a matron in a London hospital, was an excellent needlewoman and held craft classes. She could never understand why I "gave them a miss" but if she had seen my embroidery she would have done. She always won the needlework competition at WI but this didn't go down well so the committee made her the judge! She once made a patchwork quilt and lined it with woollen squares cut from underclothing. It was raffled in aid of WI funds and Mrs Wells, who won it, said that she went to bed under the doctor's pants!

Dr Chaplin died in the 1940s and it was said that if only he had taken more holidays or rest days he would have been with us longer. The surgery is no longer there but we think of him when we pass his house, now called "Chaplins".

Rose Longhurst (b. 1930s)

My father, William (Bill), worked for the Forestry Commission during the war. The trees for felling would be marked with a red band and, once felled and trimmed, my father helped haul the great logs onto a trailer and then he transported them to Singleton Saw Mills. This was a tricky operation round the narrow hilly roads in that area. All logs had to be measured and this was done with a special measure (that pulled out of a flat, round leather case), which enabled him to calculate the cubic measurement of the logs from their circumference and length. On one occasion a log fell on my dad's foot which meant a visit to Dr Chaplin who removed his large toenail and, as there was no anaesthetic, the Doctor gave him a large whisky to help!

Joy Luck (1912-2002)

There was no chemist in the early days as Doctor Chaplin did all the prescribing of medicines. The Chemist Shop didn't come into the village until after the Health Act of 1948 came in.

The Wadey Family (b.1930s)

Behind Woodford Villas another George Chalk and his family kept pigs in a field and sold the sausages in his shop in the High Street. Dr Chaplin recommended these sausages to patients when they were recuperating.

There were no street lights in the village and a visit to the doctor meant going to see Doctor Chaplin who would diagnose and dispense the required medicine. His surgery in the High Street had a very high ceiling and shelves filled with medicines in bottles - and a lot of cobwebs! He was a huge man and if he came to see you he would sit on the bed and the feather mattress would collapse under him.
Another resident, when a youngster, remembers Clement as a marvellous doctor who was quick in diagnosing illnesses. He was a tall quiet man and called most of his patients by their first name or a nickname he had given them. In his later years he had white hair and drove around in a grey Standard car 18.
His wife Agnes is remembered as a rather severe lady who was probably very conscious of the dignity of being the doctor's wife and wife of chairman of the Parish Council. However, she was always very kind to her young granddaughter who was to become a talented pianist. Agnes herself had studied piano with the well known composer Alice Verne Bredt. Agnes also produced beautiful needlework too – both embroidery and patchwork 4.
From these reminiscences, it's clear that Clement Chaplin was a man who cared much for his patients and the community. There is also a hint of his humour. This is reinforced by his daughter-in-law (George's widow) who said Clement was a quiet and she thought rather shy person who took several days to talk easily with her, but was then an amusing, witty companion 4.
He was, without doubt, a person who did great service to Angmering and one whom we should not forget.
Neil Rogers-Davis
March 2010
(Author's Note: I would like to especially thank Jenny Chaplin for the family information she has provided on both her father, George, and her grandfather, Clement, and Edward and Juliet Chaplin for information on their grandfather, Clement).

Sources of Information and Acknowledgments:
1. 1881 Census
2. International Genealogical Index
3. 1901 Census
4. Family members Jenny (Eugenie) Chaplin, Edward Chaplin, and Juliet Chaplin
5. FreeBMD
6. 1910 'Domesday' Tax Records
7. William Older Charity Trustees' Minutes - transcribed by RW Standing
8. Worthing Gazette - 1913 news articles - transcribed by RW Standing
9. "Scribble" a broadsheet published by William Hollis during WW1
10. "Angmering Parish Council - The First 100 Years" (1994) by Bryan Hazell
11. "Angmering - A Study" (1912) by Edwin A. Harris
12. Angmering PCC Minutes (WSRO Par 6/14/1 - transcribed by RW Standing
13. John Wells of Selsey, West Sussex
14. Commonweath War Graves Commission
15. London Gazette 15 April 1944
16. Transcribed by NA Rogers-Davis
17. "Angmering - Reminiscences of bygone Days" (2003) - Edited by NA Rogers-Davis and published by The Angmering Society
18. Douglas 'Jumbo' Trimmer
19. Drawing of Chaplins (ex Winona) by Terence Kay
20. The Medical Register, 1913.

(Page first uploaded -16.03.10. Last revised - 20.04.10)